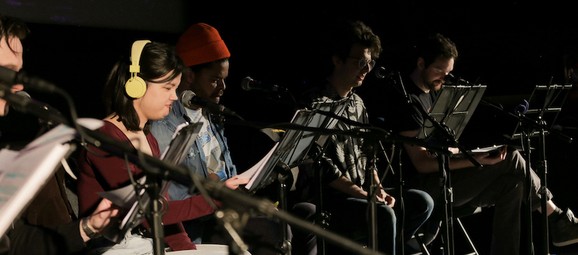 CUFF 2023 Live Script Reading Call for Submissions
As part of the 20th Anniversary Calgary Underground Film Festival (April 20-30, 2023), we will be hosting a Live Script Reading of a feature film from an Alberta scriptwriter. This is an annual event, which provides an opportunity to share your script in the early stages of development.
In partnership with the Alliance of Canadian Cinema, Television and Radio Artists (ACTRA) Alberta, we will work alongside someone from your team (the project's screenwriter, producer or director) to cast the actors who will participate in the live script reading. There will be a Q&A following the reading, where the audience and local industry can provide feedback on the script.
We're looking for Alberta feature screenwriters to apply. The script must be ready to be presented publicly, and ideally in the stage of considering production opportunities. The script does not need to have a full team in place when submitting.
The live script reading will be a free public event during the Calgary Underground Film Festival. All participants receive an artist fee and tickets to the festival.
To apply, you must:
Submit a completed draft of your feature length screenplay. (We are looking for scripts in the late stages of development that are still open to revisions and feedback)
Submit a 1-2 page treatment explaining the project's development history, any attached key creatives, your ideal timeline/release strategy, your target audience and any other important details.
Be an Alberta scriptwriter
The deadline to submit is Friday, February 24. There is no submission fee. Please fill out the form below to register.