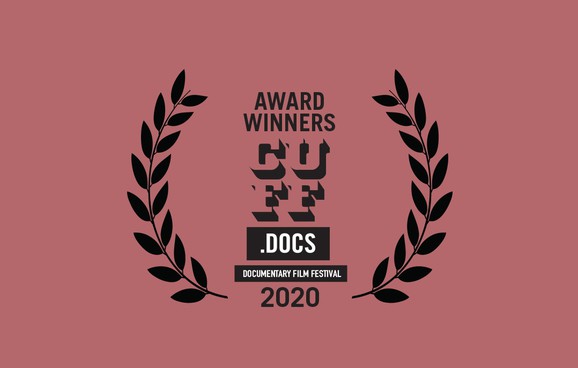 CUFF.Docs 2020 Awards
Audience Award Winners
Best Documentary Feature – NO VISIBLE TRAUMA (Directors Robinder Uppal and Marc Serpa Francoeur)
Best Documentary Short – THAT JOKE ISN'T FUNNY ANYMORE (Director Hannah Currie)
Jury Award Winners
Best Documentary Feature – PRAYER FOR A LOST MITTEN (Director Jean-François Lesage)
Directed by Jean-François Lesage, this poetic film is evidence that less is more. With a decidedly simple concept, PRAYER FOR A LOST MITTEN explores the subject of loss with warmth, vulnerability, and often profound emotional depth. The beautifully executed cinematography (Marianne Ploska) and score (Tom Brunt) create a feeling of magic that lingers long after the film is over. At once unique to its setting of Montréal and universal in scope, this film is an open-hearted, yet never sentimental testament of what it means to lose something.
Special Jury Mention – TRUTH OR CONSEQUENCES (Director Hannah Jayanti)
We commend multi-hyphenate filmmaker Hannah Jayanti's thought-provoking, unique, and genre-bending documentary. Audiences are invited to explore what speculative documentaries can do – in this case, to ask questions about our collective future. What are we leaving behind as we go forward? With an impressive combination of archival and raw unadorned footage, Jayanti's documentary brings the wonder of science fiction to our own present-day lives, and shows us that we aren't living in anticipation of the future – it's already here.
Jurors
Gillian McKercher is a filmmaker and co-founder of Kino Sum Productions. Her first feature film, Circle of Steel, won an Audience Award at the 2018 Calgary International Film Festival. Her work includes multiple music videos and documentaries, and she developed her sophomore feature narrative at the Canadian Film Center in 2019. As a follow-up to her recent work producing the CBC documentary Borrowed From Nature, she will direct her own feature documentary for the network in 2021.
Shelagh Rowan-Legg is a writer, filmmaker, and script consultant. She is the incoming Executive Director of The Miskatonic Institute of Horror Studies, a programmer for FrightFest, a contributing editor for ScreenAnarchy, and the author of The Spanish Fantastic: Contemporary Filmmaking in Horror, Fantasy, and Sci-Fi. Her award-winning short films have screened at festivals around the world.
As Associate Director of Programming, Curtis Woloschuk articulates the Vancouver International Film Festival's artistic vision through curation, program development and community building. Managing the organization's film programming team and its activities, he also oversees VIFF's expansive showcase of contemporary Canadian cinema and coordinates the adjudication of four competitions. He established and developed the VIFF Catalyst mentorship program, an initiative that accelerates the creative development of filmmakers from underrepresented communities.