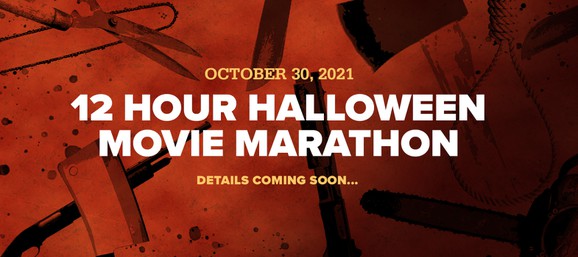 Halloween Movie Marathon 2021
On Saturday, October 30 we're back at Globe Cinema for our annual all-night horror movie marathon! From 7pm – 7am the next morning, join us for seven classic and under the radar horror movies. The lineup will be announced and tickets will go on sale in early October. For now, save the date and watch this space for updates.
When: Saturday, October 30 @ 7pm until Sunday, October 31 @ 7am
Where: Globe Cinema (617 8 Ave SW)
Tickets: $20 regular / $18 members, students & seniors
Capacity at Globe Cinema will be reduced and all health and safety protocols set by Globe Cinema will be strictly enforced. Attendees must wear a mask inside the building, social distancing etiquette must be followed, and only Debit, Visa, and Mastercard will be accepted at the concession. Please note that this year's Halloween event is in-cinema only. If you'd like to participate from home, many of these films are available to rent or purchase for at-home viewing. Watch this space for updates as we monitor the COVID situation and set restrictions in accordance with Alberta Health Services, the Government of Alberta, and Globe Cinema.
EVENT DETAILS
Doors at 6 pm, the first film starts at 7pm
Come for one film, or stay for them all
Costume contest at midnight
Giveaways and surprises throughout the night
Tickets will go on sale and the lineup will be announced in early October