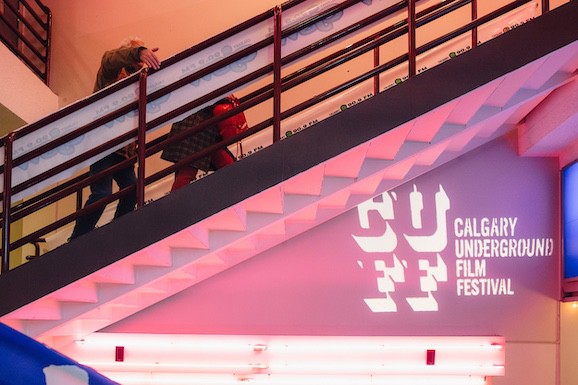 Health & Safety
In accordance with Alberta Health Services guidelines, the Calgary Underground Film Festival is taking the following precautions to help stop the spread of COVID-19. In accordance with the most recent government announcement, and no new restrictions placed on theatres, we are cautiously moving ahead with our in-cinema screenings at CUFF.Docs Documentary Film Festival (Nov 25 – Dec 1, 2020). The following rules and restrictions will be in place for all CUFF.Docs events:
Capacity at Globe Cinema will be reduced to 15% (50 seats per cinema). Seats will be spaced out and there will be a maximum of four in a section. Available seats will be indicated when you arrive at the cinema.
CUFF volunteers will sanitize the seats between screenings.
No-touch temperature checks will be taken by all patrons, staff and volunteers upon entry into the venue.
Ticket sales for all CUFF events are online only.
All health and safety protocols set by Globe Cinema will be strictly enforced. Attendees must wear a mask inside the building, social distancing etiquette must be followed, and only Debit, Visa, and Mastercard will be accepted at the concession.
If you have purchased tickets for an in-cinema screening and are not feeling well on the day of an event, have been in contact with anyone who has tested positive, or prefer to watch the film online instead of in-cinema, we will transfer in-cinema tickets to online ones, so that you can stream the film instead. If cinemas in Calgary need to close due to Alberta COVID-19 regulations, we will also transfer tickets to online ones. If an online screening is unavailable, we will offer a refund.
Globe Cinema's Rules & Regulations
Please read before arriving at any CUFF event, as these protocols set by the venue will be strictly enforced.
The safety and comfort of our patrons is our main concern during this time, so we've made some changes for this re-opening. Before attending a film, take note of the following restrictions currently in place and please be respectful of your fellow movie-goers:
Masks must be worn inside our building. You may take off your mask once seated in the auditorium. You will not be allowed inside without a mask.
We ask that all our guests please follow the proper social distancing etiquette while attending films at Globe. This includes standing at least 6 feet apart in lobbies and only sitting next to the people in your group or family. Every second row of seats is closed.
We are only accepting Debit, Visa, and Mastercard payment at concession for the time being.
The front doors will be locked 10 minutes after the film has started; no latecomers or "in-and-outs" – sorry! This is so that our small team can safely and comfortably clean after starting and between shows. Washrooms and concessions are still available to patrons in the building.
Facilities Safety
There are some other facility-facing changes at Globe Cinema that you may notice to address the ongoing concern for COVID-19 as small businesses re-open. We are taking these and other background precautions: We are only allowing a maximum of 50 patrons per show, as opposed to our usual 378. We are also blocking off every second row of seats in the auditorium to help. You will notice vinyl floor signage with 6 feet of distancing to help you or your group keep social distancing standards while in line at the concession. Speaking of our concessions, plexiglass screens have been installed at each station and we are encouraging tap-only card payment from patrons. Our staff wear masks, do not share tasks, and follow Alberta Health Services and Government of Alberta cleaning and disinfecting standards for their persons and the Globe Cinema concession facilities throughout the night. We have also installed touchless soap dispensers in each bathroom, and hand sanitizer stations around the building for patron use.