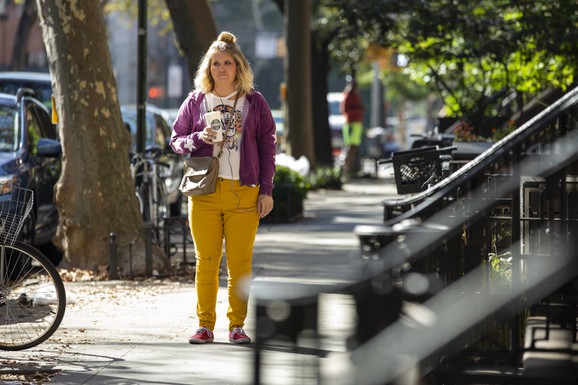 Off the CUFF: Brittany Runs a Marathon
The Calgary Underground Film Festival and Elevation Pictures present an Off the CUFF Advance screening of BRITTANY RUNS A MARATHON, Winner of the 2019 Sundance Film Festival Audience Award.
When: Monday, Aug 26 @ 7:00 pm
Where: Globe Cinema (617 8 Ave SW)
Tickets: $10 ($8 members / students / seniors)
BUY TICKETS

SYNOPSIS
Hilarious, outgoing and always up for a good time, New Yorker Brittany Forgler is everybody's best friend ― except maybe her own. At 27, her hard-partying ways, chronic underemployment and toxic relationships are catching up with her, but when she stops by a new doctor's office to try to score some Adderall, she gets slapped with a prescription she never wanted: Get healthy. Too broke for a gym and too proud to ask for help, Brit is at a loss, until her seemingly together neighbor Catherine pushes her to lace up her Converse sneakers and run one sweaty block. The next day, she runs two. And soon, after finishing her first mile, she sets an almost unthinkable goal: running in the New York City Marathon.

Award-winning playwright Paul Downs Colaizzo makes his directorial debut with BRITTANY RUNS A MARATHON, an uproarious, irreverent and surprisingly emotional comedy inspired by real events. The irresistible cast, led by Jillian Bell, lends heart and soul to this inspirational story of a party girl who finally finds real friends — and dignity — by taking control of her future, one city block at a time. Winner of the 2019 Sundance Film Festival Audience Award.
CREDITS
Director & Screenwriter: Paul Downs Colaizzo
Producers: Matthew Plouffe, Tobey Maguire, Margot Hand
Executive Producers: Richard Weinberg, Jillian Bell, Paul Downs Colaizzo
Co-Producer: Jolian Blevins
Director Of Photography: Seamus Tierney
Cast: Jillian Bell, Michaela Watkins, Utkarsh Ambudkar, Lil Rel Howery, Micah Stock, Alice Lee
104 min
OFFICIAL SELECTION
Sundance Film Festival 2019, Seattle International Film Festival 2019
QUOTES
"Paul Downs Colaizzo's directorial debut is witty and warm, and powered by a breakout turn from the rising star." – IndieWire

"This terrifically engaging debut feature by playwright Paul Downs Colaizzo is the best kind of "crowdpleaser": one that earns every emotional beat." – Variety
OFF THE CUFF is a year-round series presented by the Calgary Underground Film Festival. For those films we just couldn't make work with our festival dates, we go off the CUFF.