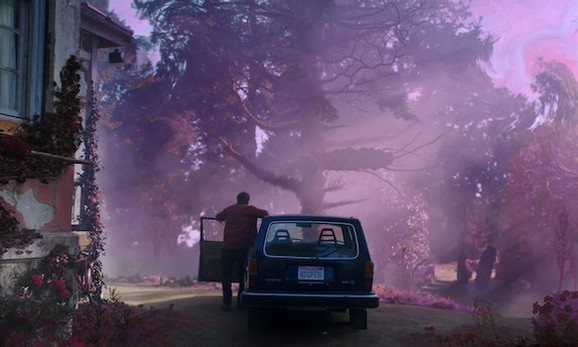 Off the CUFF: COLOR OUT OF SPACE
Richard Stanley's adaptation of H.P. Lovecraft's classic horror short story stars Nicolas Cage as an unhinged patriarch dealing with the aftermath of a meteor falling to earth and landing on his family's property.
When: Monday, Feb 3 @ 7:00 pm
Where: Globe Cinema (617 8 Ave SW)
Tickets: $10 ($8 members / students / seniors)
BUY TICKETS - ADVANCE TICKETS ARE SOLD OUT. A LIMITED NUMBER WILL BE AVAILABLE AT THE DOOR FOR THE RUSH LINE.
DETAILS
USA, 2019, 111 minutes
SYNOPSIS
COLOR OUT OF SPACE is a story of cosmic terror about The Gardners, a family who moves to a remote farmstead in rural New England to escape the hustle of the 21st century. They are busy adapting to their new life when a meteorite crashes into their front yard. The mysterious aerolite seems to melt into the earth, infecting both the land and the properties of space-time with a strange, otherworldly color. To their horror, the Gardner family discover that this alien force is gradually mutating every life form that it touches…including them.
OFFICIAL SELECTION
Fantastic Fest 2019
Toronto International Film Festival 2019
Sitges 2019
Beyond Fest 2019
CREDITS
Director: Richard Stanley
Producers: Daniel Noah, Josh Waller, Lisa Whalen, Elijah Wood
Screenplay: Richard Stanley, Scarlett Amaris
Cast: Nicolas Cage, Joely Richardson, Madeleine Arthur, Brendan Meyer, Julian Hilliard, Elliot Knight, Q'orianka Kilcher, Tommy Chong
"Full-bore, glorious B-movie Cage: Cranked up to 11, spattered with gore and bellowing about alpacas." – New York Post
"It's disorderly fun that sports a directorial personality distinct enough to make one grateful for Stanley's return." – Variety
OFF THE CUFF is a year-round series presented by the Calgary Underground Film Festival. For those films we just can't make work with our festival dates, we go off the CUFF.