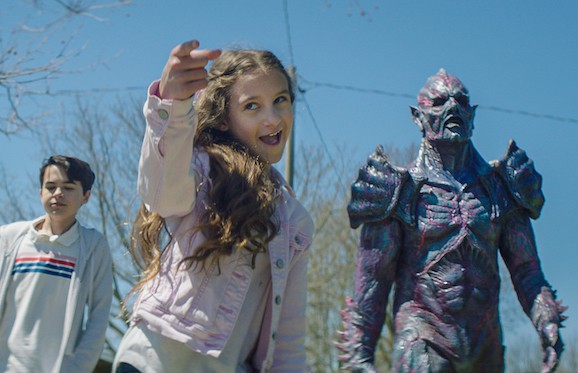 Off the CUFF: PSYCHO GOREMAN
Just before Halloween, we're heading back to Globe Cinema for our first socially-distant event – an Off the CUFF screening of the sci-fi horror comedy PSYCHO GOREMAN. From Canadian cult filmmaker Steven Kostanski, PSYCHO GOREMAN tells the story of malevolent creature who is forced to obey the bidding of two children.
When: Tuesday, October 20 @ 7:00 pm
Where: Globe Cinema (617 8 Ave SW)
Tickets: $10 ($8 members / students / seniors) – tickets must be purchased online in advance
BUY NOW

Following the screening cast members Nita-Josée Hanna, Owen Myre and Matt Ninaber will join CUFF Lead Programmer Cameron Macgowan for a virtual Q&A!
Capacity at Globe Cinema will be reduced to 20% (75 seats). All health and safety protocols set by Globe Cinema will be strictly enforced. Attendees must wear a mask inside the building, social distancing etiquette must be followed, and only Debit, Visa, and Mastercard will be accepted at the concession. Please read Globe Cinema's rules & regulations before arriving.
DETAILS
Canada, 2020, 99 min
SYNOPSIS
Siblings Mimi and Luke unwittingly resurrect an ancient alien overlord. Using a magical amulet, they force the monster to obey their childish whims, and accidentally attract a rogues' gallery of intergalactic assassins to small-town suburbia. The sci-fi horror comedy is written and directed by Canadian cult filmmaker Steven Kostanski (THE VOID, MANBORG, LEPRECHAUN RETURNS).
CREDITS
Director, Writer & Producer: Steven Kostanski
Producers: Stuart F. Andrews, Shannon Hanmer
Executive Producers: James Fler, Andrew Thomas Hunt, Jesse Kristensen, Peter Kuplowsky, Michael Paszt
Associate Producers: Zane Knisely
Cast: Matthew Ninaber, Nita-Josée Hanna, Owen Myre, Adam Brooks, Alexis Hancey, Steven Vlahos, Kristen MacCulloch, Anna Tierney, Kenneth Welsh
OFFICIAL SELECTION
SXSW 2020
Beyond Fest 2020
Sitges Catalonian International Film Festival 2020
Fantasy Filmfest 2020
"PSYCHO GOREMAN is the complete package. Ripe with huge laughs, it bolsters massive creativity that would make the studio system blush and comes with enough gore to flood an abattoir. This is the kind of genre cinema that we dream of." – Screen Anarchy
"PG's premise is like E.T. mixed with THE TERMINATOR, executed with the '80s nostalgia of STRANGER THINGS." – That Shelf
OFF THE CUFF is a year-round series presented by the Calgary Underground Film Festival. For those films we just can't make work with our festival dates, we go off the CUFF.