Rubber
France/ USA, 2010 : Alberta Premiere
Special Guest!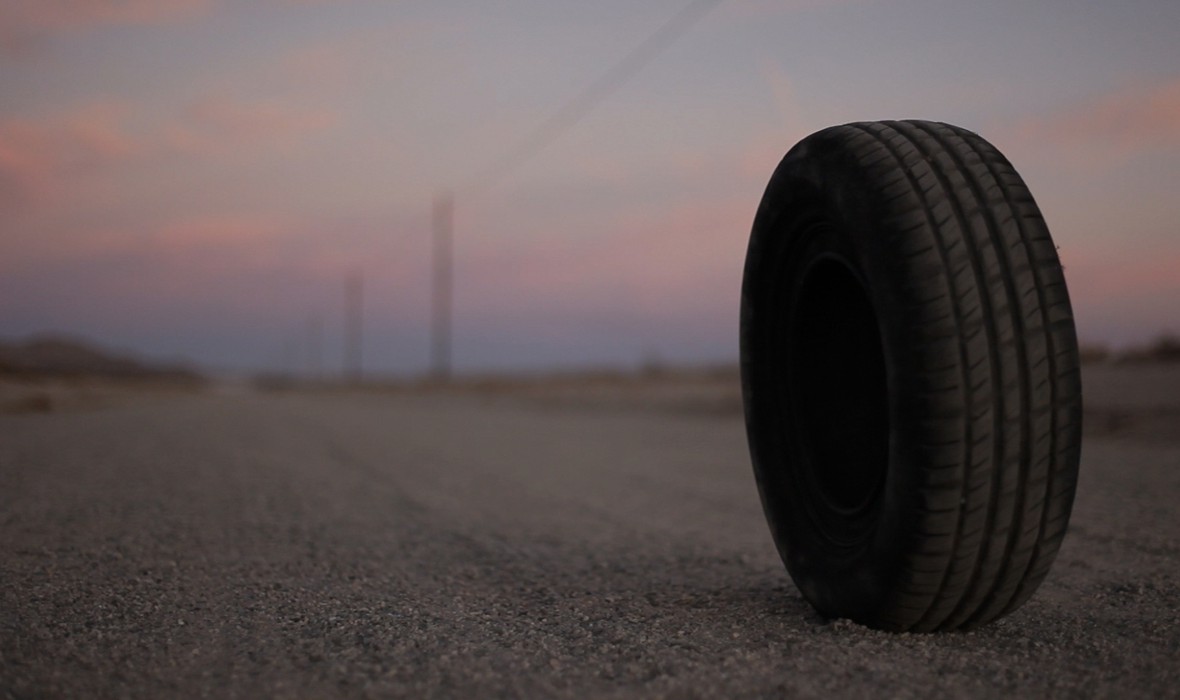 description
Why should you see Rubber? No reason... It is only the most deliriously insane and wonderful movie-going experience of the year. Robert is a tire. Yes, a tire. And he's alive and livid. Why so angry? Well there is a reason this time. Humanity doesn't treat tires all that well, and when Robert sees humans burning a whole pile of his brethren… Well… Robert gets a little mad. And you see… not only is Robert (the tire) sentient, he also has the power of telekinesis. He can make things explode. That's quite unfortunate for several of the characters in this tale of a Goodyear gone bad, but a source of entertainment for an audience, both the one within the film (a Greek chorus of sorts) and the one sitting in a dark theatre watching it (you!). Directed by Quentin Dupieux. Perhaps a person better known to you as the electronic music maestro Mr. Oizo, but soon to be known everywhere as the director of Rubber, a movie about a tire that is utterly brilliant and absolutely hilarious.
- Peter Kuplowsky, Toronto After Dark
OFFICIAL SELECTION:
Cannes 2010
Toronto After Dark Film Festival 2010
Fantasia Film festival 2010
Fantastic Fest 2010
Sitges International Fantastic Film Festival 2010
Glasgow Film Festival 2011
press for Rubber
"An INCREDIBLY ORIGINAL CREATION from a mind unafraid to move well beyond the traditional and into the realm of Bat-$#%& CRAZY."
- Rob Hunter, Film School Rejects
"ROGER CORMAN by the way of SAMUEL BECKETT - one of the smartest films of the year. An effortless watch—as funny and entertaining as they come."
- Jacob Hall, CHUD
screened with a short film

Jack
Canada, 2010, 6 min, Director: Kryshan Randel
You think you've seen it all? You don't know Jack.
details
special guest
Special Guest Appearance by Robert!
credits
Director/ Writer:
Quentin Dupieux
Producers:
Julien Berlan, Gregory Bernard,
Josef Lieck
Cast:
Stephen Spinella, Roxane
Mesquida, Jack Plotnick,
Wings Hauser, Gaspard Augé of Justice
Website:
http://www.rubberfilm.com
community
awards
Audience Award, Fantastic Fest 2010
Sitges Film Festival, Citizen Kane award for up-and-coming director 2010
Sitges Film Festival, Best Motion Picture Fantàstic for Rubber 2010
Most Innovative Film Bronze, Fantasia Film Festival 2010
Fans Choice Award Most Original Film, Toronto After Dark Film Festival 2010