The History of Future Folk
USA, 2012 : Alberta Premiere
Special Guest!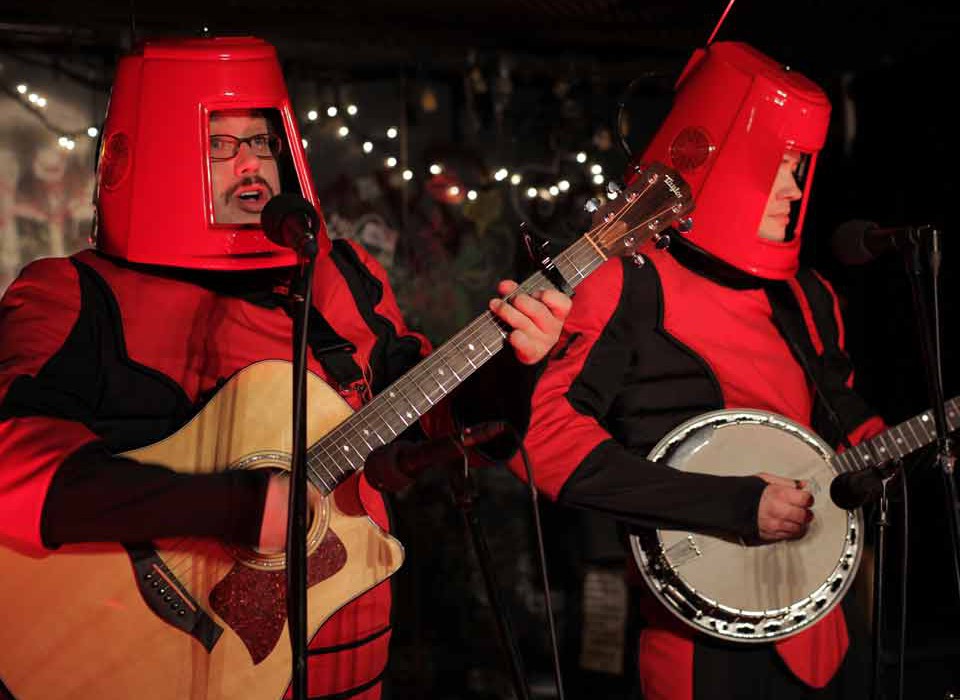 description
When a comet threatens to destroy their planet,the citizens of Hondo enlist their most decorated soldier, General Trius, to search for a new home. After landing on Earth somewhere near Brooklyn, New York, General Trius wanders into a megastore where he's suddenly enchanted by a strange and mystical human invention known as "music". He promptly reconsiders his plan to eradicate the human race and decides he must stay on Earth and learn everything he can about this wonderful creation, unknown elsewhere in the galaxy. His peaceful life is disrupted when the Hondonians send another soldier, Kevin, to assassinate General Trius and clear the way for an invasion. Although General Trius finds it easy to subdue Kevin through the power of music, the Hondonians have no intention of calling off their plan to eliminate mankind. Together, the pair set out on their own mission to save Hondo, prevent intergalactic warfare and create the universe's first Hondonian bluegrass duo: Future Folk!
The History of Future Folk is the origin story for the real life "Acoustic Space Aliens" who have been charming NYC audiences for the better part of the last decade.
OFFICIAL SELECTION:
Fantastic Fest 2012
Los Angeles Film Festival 2012
Leeds International Film Festival 2012
Canadian Music Week 2013
press for The History of Future Folk
"A love letter to the power of music - a film that earns every inch of its charm."
- Bad Ass Digest
"Delightful. A film that sincerely has love for its characters..."
- LA Weekly
details
special guest
Director Jeremy Kipp Walker in Attendance!
credits
Directors:
J. Anderson Mitchell, Jeremy Kipp Walker

Writer:
J. Anderson Mitchell

Producers:
Jeremy Kipp Walker, Jon Bulette, Andrew Goldman

Cast:
Nils d'Aulaire, Jay Klaitz, Julie Ann Emery, April Hernandez

Website:
www.futurefolk.com
community
awards
Best Comedy Screenplay/ 2nd Place Audience Award, Fantastic Fest 2012
Audience Award, Philadelphia Film Festival 2012
Winner Best Narrative Feature, Friars Club Comedy Film Festival 2012
Community Partners