Jug Face
USA, 2013 : Canadian Premiere
Special Guest!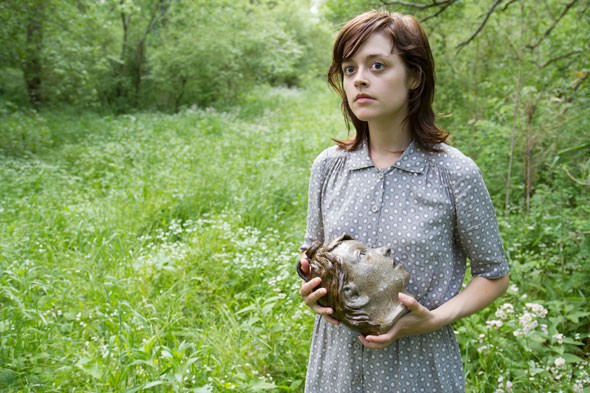 description
Face is a modern folk tale steeped in rich atmosphere that follows a backwoods community where life is based around the worship of a deity known as The Pit.

The Pit has spoken. Dawai, potter for a remote community, has crafted a face on a ceramic jug of the next person to be sacrifi ced. Ada, pregnant with her brother's child, has seen her face on the jug and hides it in the woods, determined to save the life of her unborn child. If she does not sacrifice herself, however, the creature from the pit will kill everyone in the village until she does.

The first feature from writer-director Chad Crawford Kinkle, Jug Face builds an unconventional atmosphere by approaching its potentially outlandish subject matter with an eye for realistic details. Infused with the dread of the darkest fairy tale, Kinkle's debut is a compellingly creepy feature that puts the cult back in horror.

OFFICIAL SELECTION:
Slamdance Film Festival 2013
Boston Underground Film Festival 2013
press for Jug Face
"A bizarre but confident and odd yet grimly accessible tale of bad religion, bad spirits, and very bad behavior."
- FEARnet
"Kinkle's debut feature is filled with emotion and enough blood to keep the gore hounds satisfied."
- Dread Central
details
18+
81 Minutes
special guest
Director Chad Crawford Kinkle in Attendance!
credits
Director/Writer:
Chad Crawford Kinkle

Producers:
Andrew van den Houten, Robert Tonino

Cast:
Lauren Ashley Carter, Sean Bridgers, Sean Young, Larry Fessenden

Website:
jugfacethemovie.com
community