Murder of Couriers
Canada, 2012 : Canadian Premiere
Special Guest!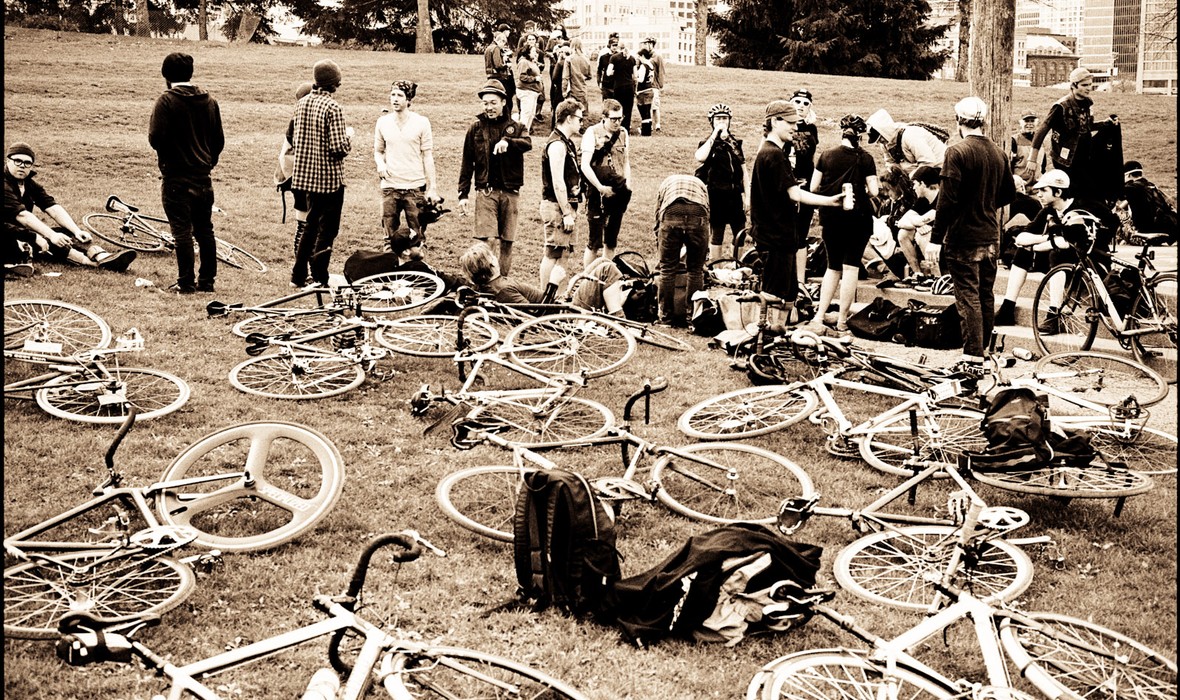 description
As dawn breaks over a sleepy Vancouver, a dark mass, a murder of crows, crawls violently towards the city. Beneath the crows, in the jagged streets at the edge of the city, another mass makes its way: A murder of couriers.
With the emerging popularity of urban fashion, extreme sports, green living and alternative lifestyles, people all over the world have begun to take to the streets on two wheels. At the heart of this general movement is a race of individuals who are indifferent to the cause. Now people around the world are beginning to look at bike messenger culture as a simple unifier of modern ideals. "A perfect marriage of work and play created by those who have learned to cut through the traffic of an uneventful life," Murder of Couriers investigates this culture — the love and hatred for the roads we live on, the chaos of Friday night bike polo and alley-cat races, the partying, the poverty, the inevitable pitfalls that come with living in the moment through the eyes of the enigmatic characters who live it daily.
Join us for an AFTER PARTY at The Palomino Smokehouse (109 7th Avenue SW) - live music, goldsprints, tricycle racing, prizes and drinks specials! This is free, and
open to the public. The most fun you can have on two wheels!!!
Bike Racks generously provided by Alberta Bike Swap.
OFFICIAL SELECTION:
Transatlantyk Film + Music Festival, Poland 2012
details
special guest
Director & Producer in Attendance!
credits
Directors:
Tom MacLeod & Neil Brill

Producers:
Douglas Kerr, Chris Judson, Tom MacLeod, Neil Brill

Cast:
Mike Hodder, Patrick Williscroft, Benjamin Boyd

Original Music by Justin Hagberg

Website:
www.murderofcouriers.com
community
Presenting Partner
Community Partners