Asphalt Watches
Canada, 2013 : Alberta Premiere
Special Guest!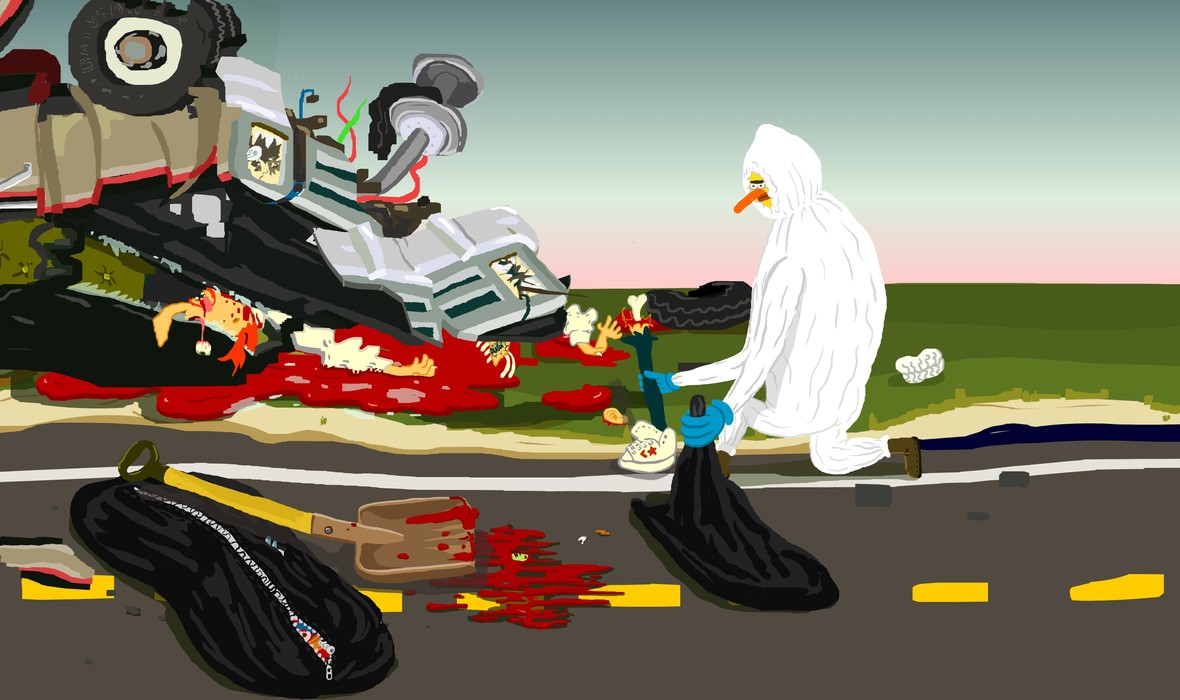 description
This autobiographical psychedelic animated road movie - and TIFF award winner - from Seth Scriver and Shayne Ehman follows Bucktooth Cloud and Skeleton Hat as they embark on a hilarious and frightening road trip, encountering strange people and happenings along the Canadian highway – a psychotic hamburger-loving Santa Claus from Calgary, a polite young man with a knife in his belly and a barrage of out-of-control hosers.
On their odyssey, Bucktooth Cloud and Skeleton Hat inadvertently take part in everything from a domestic rave to a local beauty contest. As they make their way across Canada, we see a country full of wonderful freaks with amazing stories all set to head-bopping beats. Get ready for a bizarre and loopy road trip across Canada, as it's never been seen before! Visual artists Seth Scriver and Shayne Ehman spent seven years turning their real-life adventures hitchhiking along the Trans-Canada Highway into this hilarious, grotesque, and utterly original adult animated feature.
In conjunction with the screening, AVALANCHE! Institute of Contemporary Art is proud to present a one-night-only exhibition of collaborative drawings by Seth Scriver and Shayne Ehman, opening Thursday April 10th at 9PM. Admission is free and open to the public. Facebook event page here
Located at: 343 11 Avenue SW (basement)
OFFICIAL SELECTION:
SF IndieFest 2014
Toronto International Film Festival 2013
press for Asphalt Watches
"Asphalt Watches is a trip in every sense of the word.""
- Agata Smoluch Del Sorbo, Toronto International Film Festival
screened with a short film

WAWD AHP
USA, 2013, 3 Min, Director: Steve Girard
details
special guest
credits
Directors/ Producers/ Writers:
Shayne Ehman, Seth Scriver

Animators:
Shayne Ehman, Seth Scriver

Cast:
Shayne Ehman, Seth Scriver, Erin Zimerman, Marc Bell, Jodie Manson

Website:
asphaltwatches.ca
community
awards
Best Canadian First Feature Film, Toronto International Film Festival 2013, TIFF Top 10
Presenting Partner

Community Partners