The Found Footage Festival
USA, 2014 : Hosted Live by Joe Pickett and Nick Prueher
Special Guest!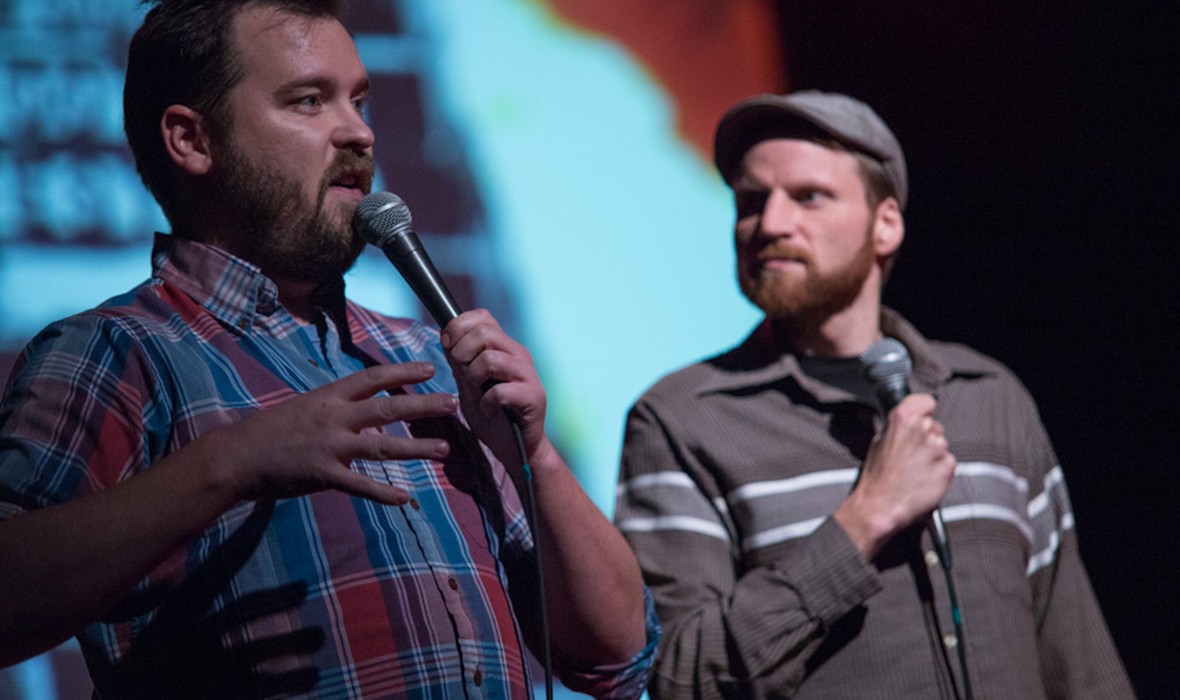 description
The Found Footage Festival is a one-of-a-kind event showcasing videos found at garage sales and thrift stores and in warehouses and dumpsters throughout North America. Curators Joe Pickett (The Onion) and Nick Prueher (Late Show with David Letterman) take audiences on a guided tour of their latest and greatest VHS finds, providing live commentary and where-are-they-now updates on the people in these videotaped obscurities. From the curiously-produced industrial training video to the forsaken home movie donated to Goodwill, the Found Footage Festival resurrects these forgotten treasures and serves them up in a lively celebration of all things found.

Among the new clips featured in the new 10th anniversary program:

- A new exercise video montage featuring a Christmas-themed
workout, a martial arts fi tness regimen called "Tiger Moves," and a
tape called "Butt Camp"
- Newly unearthed footage of the world's most obnoxious home
shopping hosts, John & Johnny (c. 1987), and the long-awaited reunion
orchestrated by the FFF curators 26 years later
- "Special Delivery" a 1994 video for dog breeders about a process
known as "whelping"
- A bizarre instructional video from 1997 with the redundant title, "How
to Have Cybersex on the Internet"

AFTER PARTY will take place at the Ship and Anchor Pub 534 - 17 Avenue SW (subject to capacity) Come hang out with everyone if your up for it!
SHOW UP & SHIP OUT WITH THE SHIP & ANCHOR (limited to 43 bus tickets)
$14 (Bus tickets available only at The Ship) Pre-purchase recommended
Bus leaves from The Ship for the Globe Cinema to see the Found Footage Festival at 6:15 PM sharp & returns afterwards for a FREE drink & after-party.
details
$14 Regular Admission
$12 CUFF Memberships, Students & Seniors
(punch passes are not accepted for this show)
90 Minutes
special guest
Hosted Live by Joe Pickett & Nick Prueher
community
Community Partners