Adult Beginners
USA, 2014 : Alberta Premiere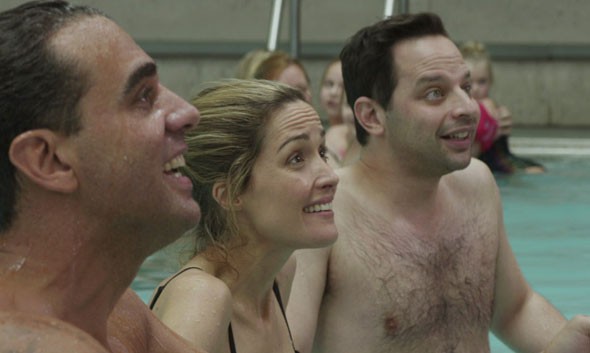 description
Academy Award-nominated producer Ross Katz (IN THE BEDROOM, LOST IN TRANSLATION) makes his feature directorial debut with this heartwarming and hilarious film (whose executive producers include indie kings Jay and Mark Duplass) about crashing hard, coming home and waking up.

ADULT BEGINNERS begins with one yuppie's disaster. On the eve of a product launch designed to shoot his career into the stratosphere, Jake (Nick Kroll) discovers that, because of a single misstep, his life has plummeted into the dirt. Having lost his girlfriend, his credibility, and over $2.5 million in investor money, Jake retreats to the one place where he's always welcome: his childhood home, which is now occupied by his pregnant sister Justine (Rose Byrne), her husband Danny (Bobby Cannavale), and their three-year-old son, Teddy.
OFFICIAL SELECTION:
Toronto International Film Festival 2015
press for Adult Beginners
"Rose Byrne and Nick Kroll play a sibling duo navigating their shared and respective crises in this warmly appealing dramedy."
- Variety
"ADULT BEGINNERS is a bonafide comedy. Writers Jeff Kox and Liz Flahive pepper their script with intelligent humor; witty, sarcastic, and self-deprecating dialogue bounds off."
- The Playlist
screened with a short film

Brontosaurus
USA, 6 Minutes, 2015, Director Robert Putka