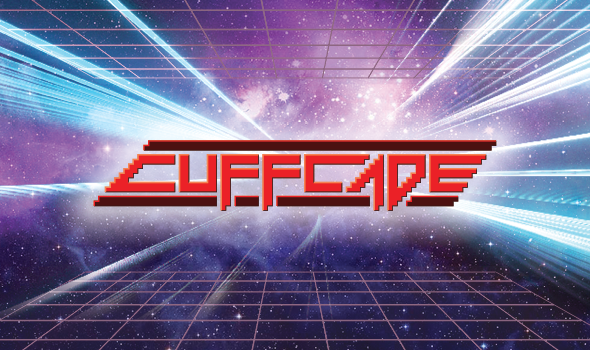 description
Visit our brand new CUFFcade, located in the mezzanine level of the Globe Cinema during the entire festival. We have designed five cabinets, each to accommodate a local, or Canadian video game for you to play.
Game: KRUNCH
Developers: LeGrudge & Rugged (Vieko Franetovic, Mike Lohaus)
Location: Calgary, Alberta
Website: krunchgame.com
Available on: Steam, Humble Store
Platforms: Mac, PC, Linux
Description: KRUNCH is a quick-reflex game about escaping, survival and the fear of being closed-in where you play as one of six Krons (mechanical orb-like entities) trapped in a seemingly abandoned fortress. Escape more than 100 claustrophobic levels spread across 4 zones, survive 3 challenging boss chases, conquer one frantic race to freedom! KRUNCH demands concentration, delivers fast gameplay and will test fans of games such as Mega Man, Super Meat Boy and VVVVVV. IN A NUTSHELL: Frantic gameplay, deviously challenging levels, spot-on difficulty curve, exhilarating boss chases, now with SELF-DESTRUCT!
Game: JUMP JET REX
Developers: TreeFortress Games (Shawn Blais, Mike Gaboury)
Location: Edmonton, Alberta
Website: jumpjetrex.com
Available on: Steam
Platforms: Mac, PC, Linux
Description: A punishing, old school 2-D platformer with a time-trial twist! Players take control of a T-Rex with extraterrestrial jump boots, tasked with saving dino-kind from extinction. Jump, drop and dash your way through 40+ challenging levels and race against the clock to preserve life during the Mesozoic era!
Game: COSMOCHORIA
Developer: Nate Schmold
Location: Vancouver Island, British Columbia
Website: cosmochoria.com
Available on: Steam, Humble Store
Platforms: Mac, PC, Linux
Description: Cosmochoria is a love letter to old-school action / arcade games like Asteroids, Mario Bros. and Sinistar. You play the role of a tiny pink naked cosmonaut who 'finds himself' in a distant galaxy. While no story is immediately apparent, consecutive games will begin to reveal some of the deeper mysteries surrounding the universe around you. You are free to roam the galaxy in search of these secrets, or to remain on a single planet, establishing a home base to fight aliens and tend to your galactic garden while building up a high score.
Game: GUN
Developer: Kitty Lambda Games, Calvin French
Location: Calgary, Alberta
Website: kittylambda.com
Available on: Never gonna be available except at indie arcades!
Platforms: Exclusively for CUFFcade and Winnitron 2000.
Description: "Are you sure he came in here?" "Yeah, I saw him come in." Always bring a friend in GUN, a 2-player action maze game where you are on a mission to beat the Scary Warehouse. What lurks inside? Robots.
Game: DON'T BE PATCHMAN
Developer: Naturally Intelligent, Dave Kerr
Location: Calgary, Alberta
Website: dontbepatchman.com
Platforms: Mac, PC, Linux, iOS, Android
Desription: Sneak-and-grow arcade game
details
All ages.
Come play games between films between April 13-19.

community