Manglehorn
USA, 2014 : Alberta Premiere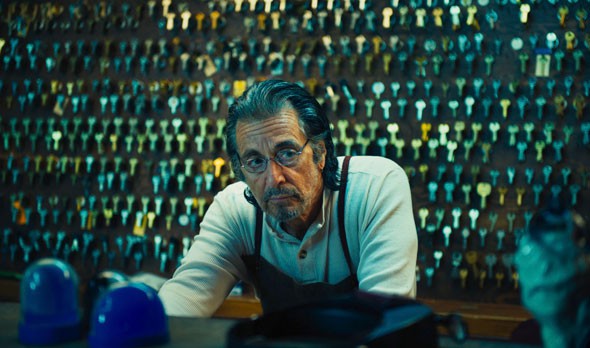 description
Al Pacino delivers one of his most restrained and deeply soulful performances in Manglehorn. He plays a charmingly shaggy locksmith who spends his days tending shop, flirting with bank tellers and mourning the loss of woman from his past. David Gordon Green (JOE, PINEAPPLE EXPRESS, ALL THE REAL GIRLS) proves once again that he has an unmatchable eye when it comes to soaking in and appreciating the world's eccentrics, outcasts and lovable weirdoes. Combined with exemplary supporting turns from Holly Hunter and Chris Messina, MANGLEHORN is singular, heartfelt and just weird enough to be stuck in your mind long after the movie ends. Essential viewing for Harmony Korine's bonkers turn alone. We're talking early Danny McBride-esque, people!

OFFICIAL SELECTION:
Venice Film Festival 2014
Toronto International Film Festival 2014
SXSW 2015

DIRECTOR BIOGRAPHY:
David Gordon Green is an American filmmaker. He has directed dramas such as PINEAPPLE EXPRESS, JOE, GEORGE WASHINGTON, ALL THE REAL GIRLS and SNOW ANGELS.
press for Manglehorn
"Fascinating to those of us willing to let its meditative currents take us through a mosaic of moods, mysteries, magic and melancholy"
- The Playlist
"There's no doubting the craft of director [David Gordon Green], who continues to prove himself one of the less predictable and most skilled craftsmen around."
- HitFix
details
credits
Director:
David Gordon Green
Producers:
Lisa Muskat, David Gordon Green, Derrick Tseng, Molly Conners, Christopher Woodrow
Screenwriter:
Paul Logan
Cinematographer:
Tim Orr
Cast:
Al Pacino, Holly Hunter, Chris Messina, Harmony Korine
Editing:
Colin Patton
community
awards
Nominated for Golden Lion, Venice Film Festival