Night Owls
USA, 2015 : International Premiere
Special Guest!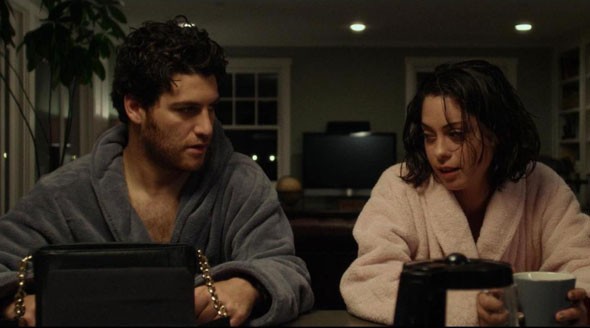 description
What starts as a one-night stand takes an unexpected turn when Kevin (Adam Pally) discovers that the girl he went home with is the spurned lover of his boss. As the booze wears off and he realizes where he is, Kevin comes across Madeline (Rosa Salazar) who has taken a bottle of sleeping pills in a suicide attempt. Having to stay up together all night (doctor's orders), the two begin opening up to each other. With undeniable on-screen chemistry and excellent pace, stars Adam Pally and Rosa Salazar exchange banter and offer a fresh blend of comedy and emotion.

The comedy-drama which had its premiere at SXSW features many familiar faces from the small screen including Adam Pally (The Mindy Project, Happy Endings), Rosa Salazar (Parenthood), Tony Hale (Arrested Development, Veep), Rob Huebel (Transparent) and Peter Krause (Six Feet Under, Parenthood).
OFFICIAL SELECTION:
SXSW 2015
DIRECTOR BIO:
Charles Hood was born in Omaha, Nebraska, and attended film school at USC. In 2007, he wrote and directed his first feature, FREEZER BURN. After directing and co-writing two comedic shorts, ALLISON and FIRST KISS, he moved on to his second feature, NIGHT OWLS. Like all of his movies, NIGHT OWLS is a character-driven comedy with a dark twist.
press for Night Owls
"NIGHT OWLS is equally hilarious and heartfelt, but it always remains raw, real, and refreshingly honest."
- We Got This Covered
"Writer-director Charles Hood actually manages to nail the all too familiar romance movie trope in his second feature, NIGHT OWLS."
- Collider
details
special guest
Director Charles Hood in Attendance!
credits
Director:
Charles Hood
Producers:
Toby Louie, Seth Goldsmith, Charles Hood
Screenwriters:
Seth Goldsmith, Charles Hood
Cast:
Adam Pally, Rosa Salazar, Rob Huebel, Peter Krause, Tony Hale
Cinematographer:
Adrian Correia
Website:
www.nightowlsmovie.com/
Twitter:
@NightOwlsMovie
community