Redeemer
Chile/ USA, 2014 : Canadian Premiere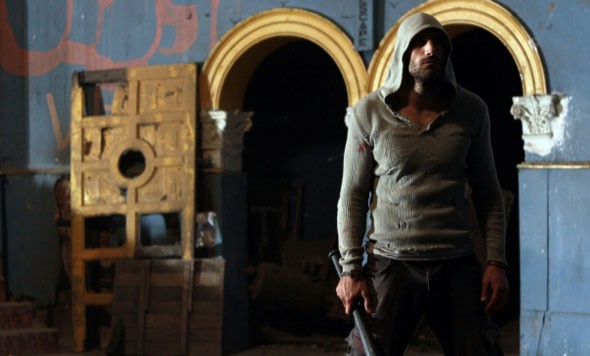 description
A former hit-man for a drug cartel, Pardo (Chilean action star Marko Zaror) has made a deal with God to hunt down the men he used to work for. Now a vigilante paying for his sins, the troubled man seeks redemption by stoping criminals and giving them one chance to ask for forgiveness.

The Spanish action crime-thriller once again pairs director Ernesto Díaz Espinoza (MIRAGEMAN, MANDRILL) and Marko Zaror, whose fight choreography background comes to life in this martial arts inspired action film.

OFFICIAL SELECTION:
Fantastic Fest 2014
Valdivia Film Festival, Valdivia, Chile 2014

DIRECTOR BIO:
Ernesto Díaz Espinoza is a Chilean genre director, screenwriter and editor. He is known as a pioneer of action cinema in his country.
press for Redeemer
"A fun action movie filled with great moments that isn't afraid of getting its hands dirty violence-wise."
- BadAss Digest
"Marko Zaror still kicks ass and the cinematography is gorgeous."
- Jaime Grijalba on Letterboxd
screened with a short film

Trajectories
France, 2015, 13 Minutes, Director Philippe Massoni
On a random road while in search of food and cigarettes, three friends end up at a small, deserted village.
details
18+
Spanish with English Subtitles
88 Minutes
credits
Director:
Ernesto Díaz Espinoza
Producer:
Guillermo Prieto, Noah Segan, Marko Zaror
Screenwriter:
Gina Aguad, Sanz Andrea, Diego Ayala, Ernesto Díaz Espinoza, Guillermo Prieto
Cinematographer:
Nicolás Ibieta
Cast:
Noah Segan, Marko Zaror, Loreto Aravena
Facebook:
www.facebook.com/redeemerthemovie
community