The Duke of Burgundy
United Kingdom, 2014 : Alberta Premiere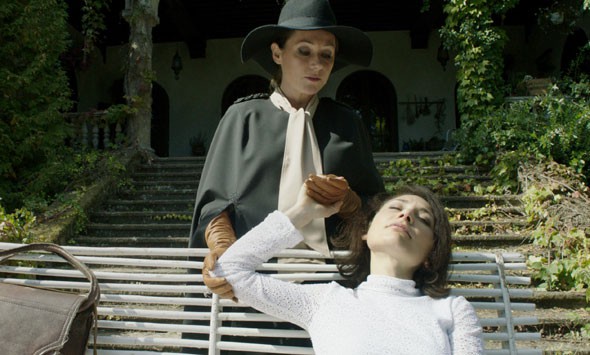 description
Dripping with eroticism and dread, THE DUKE OF BURGUNDY is a darkly decadent melodrama from Peter Strickland, the award winning writer and director of BERBERIAN SOUND STUDIO and KATALIN VARGA. .

After Cynthia (Sidse Babett Knudsen), a wealthy lepidopterist, hires Evelyn (Chiara D'Anna, BERBERIAN SOUND STUDIO) as her new housekeeper, an intimate relationship between the two progresses. Day after day, the two act out a simple yet provocative ritual, ending with Evelyn's punishment and pleasure. The line blurs Evelyn's role as a domestic servant and sex slave.

When Cynthia's demands shift from her sadomasochistic streak, Evelyn's obsession with eroticism quickly becomes an addiction that may push the relationship to a breaking point.
OFFICIAL SELECTION:
Toronto International Film Festival 2014
Fantastic Fest 2014
Sitges 2014
International Film Festival Rotterdam 2015
DIRECTOR BIO:
Born in England, Peter Strickland is a writer, director and long-time experimental musician. He has written and directed three features including KATALIN VARGA and BERBERIAN SOUND STUDIO, which screened at the 2013 Calgary Underground Film Festival.
press for The Duke of Burgundy
"Visually ravishing…. Kinky as a coiled rope"
- The Hollywood Reporter
"This isn't merely film of the year…it's sure to be one of the films of the decade"
- LA Weekly
details
credits
Director/Screenwriter:
Peter Strickland
Producer:
Andrew Starke
Cinematographer:
Nicholas D. Knowland
Cast:
Sidse Babett Knudsen, Chiara D'Anna, Monica Swinn

Editor:
Matyas Fekete

Twitter:
@dukeofburgundy
community
Community Partners