The Midnight Swim
USA, 2014 : Alberta Premiere
Special Guest!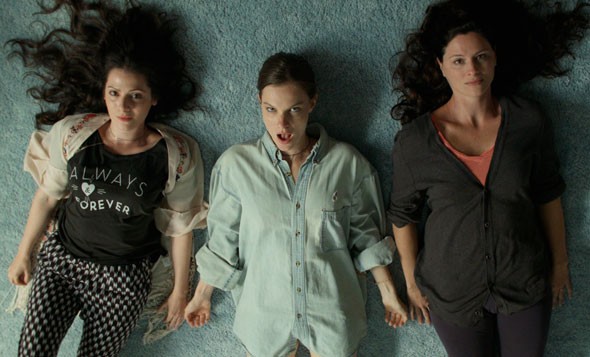 description
When their mother goes missing in Spirit Lake, three half-sisters travel home to settle her affairs.

The youngest sister, June, a documentary filmmaker obsessively captures their bittersweet homecoming as the siblings confront their troubling memories including the conflicted relationship they each had with their mother. A researcher who dedicated her life to explore the unexplainable mystery of Spirit Lake, Dr. Amelia Brooks faced an untimely death, never resurfacing after her final dive into the lake.

After the sisters jokingly summon a local ghost, their relationship begins to unravel and they find themselves drawn deeper and deeper into the true mystery of the lake.

Transporting its audience to a make believe world of the supernatural, let the myth of Spirit Lake consume you in this fresh take on the "found footage" sub-genre.

OFFICIAL SELECTION:
AFI Fest 2014
Fantasia Film Festival 2014

DIRECTOR BIOGRAPHY:
Sarah Adina Smith is an editor and director. Her previous features include GOODBYE WORLD (2013) and MADURA (2006). Her award-winning short film THE SIRENS, received the special jury prize for best screenwriting from the DreamAgo Foundation.

press for The Midnight Swim
" marvelous descent into myth and possible madness"
- Rob Hunter, Film School Rejects
"Grand and Vivid…. An almost-transparent bridge between you and a character's psyche"
- Sam Zimmerman, Fangoria
screened with a short film

12:56
Calgary, 2015, 3 Minutes, Director Alex Mitchell (World Premiere)
When you can't sleep, all you can seem to do is relive the worst experiences of your life.
details
special guest
Director Sarah Adina Smith in Attendance!
credits
community
awards
Audience Award, AFI Fest 2014
American Independent Award for Best Feature Film, Starz Denver Film Festival 2014