Uncertain Terms
USA, 2014 : Canadian Premiere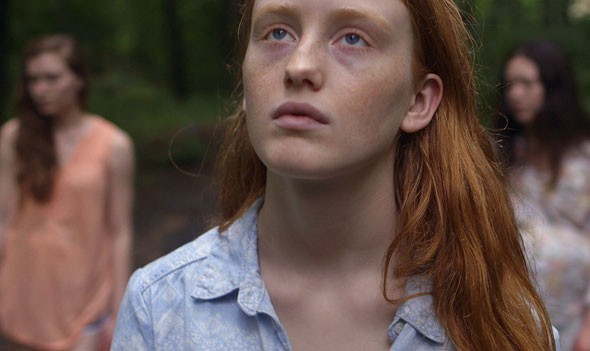 description
Needing a sudden escape from his troubled marriage, Robbie leaves Brooklyn for the countryside to stay with his Aunt Carla at her home for pregnant teenagers. He finds solace working as a handyman around the house, but inadvertently captures the attention and affection of some of the girls. Tensions run high when Robbie gets caught in a love triangle between one of the girls and her delinquent boyfriend.
OFFICIAL SELECTION:
Los Angeles Film Festival 2014
Edinburgh International Film Festival 2014
DIRECTOR BIOGRAPHY:
Nathan Silver graduated from NYU's Tisch School of the Arts in 2005. Since then, he has written and directed five feature films and four short films; THE BLIND (2009), EXIT ELENA (2012), SOFT IN THE HEAD (2013), UNCERTAIN TERMS (2014), and most recently STINKING HEAVEN (2015).
press for Uncertain Terms
"Heartbreaking, funny and truthful, with more depth crammed into 75 minutes than most manage in two hours."
- The Skinny
"An unassuming and assured fourth feature from rising indie filmmaker Nathan Silver"
- Variety
screened with a short film

The Whale
Canada, 14 Minutes, 2014, Director Michael Peterson
A successful stockbroker is used to getting his way. After losing a major client, Kyle becomes fixated on trying to close the deal.
details
credits
Director:
Nathan Silver

Producers:
Chloe Domont, Josh Mandel, Richard Peete

Screenwriters:
Chloe Domont, Cody Stokes, Nathan Silver

Cast:
David Dahlbom, India Menuez, Cindy Silver, Caitlin Mehner

Website:
http://facebook.com/uncertaintermsfilm
community
awards
Best Narrative Feature, Indie Memphis 2014
Best Screenplay, Indie Memphis 2014
Clint Howard Character Actor Award,
Sidewalk Film Festival 2014
Ultra Indie Award, Woodstock 2014