Love & Peace
Japan, 2015 : Western Canadian Premiere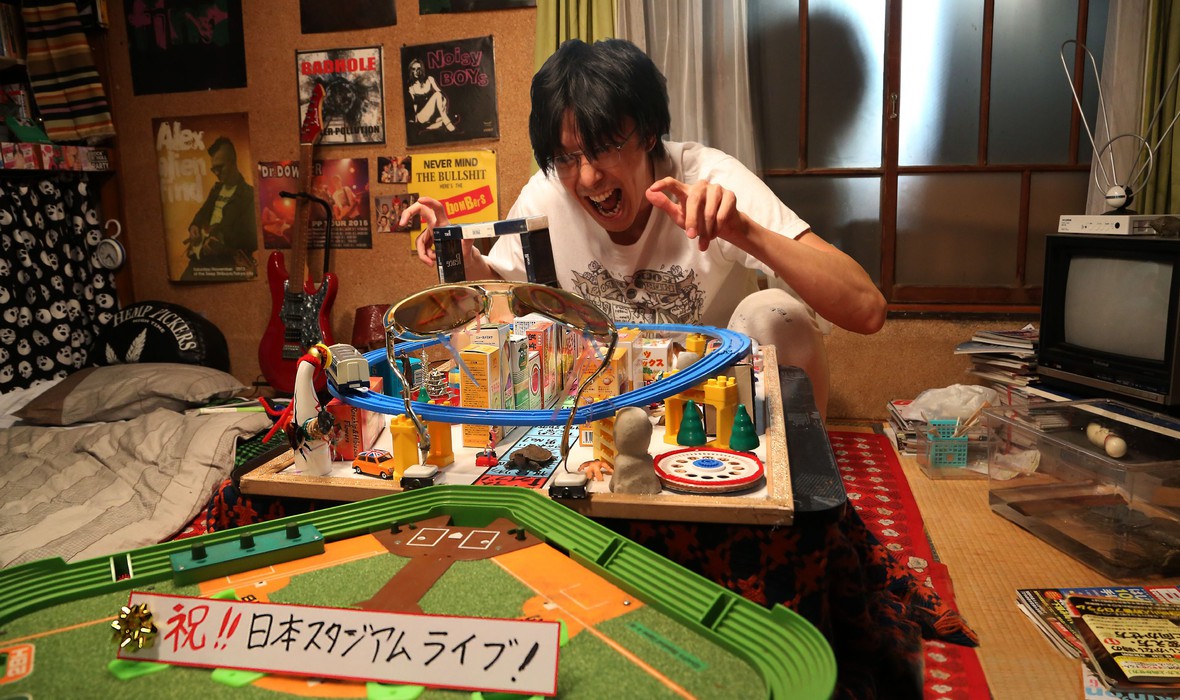 description
Acclaimed Japanese Director Sion Sono (LOVE EXPOSURE, COLD FISH and the CUFF 2014 selection WHY DON'T YOU PLAY IN HELL?) returns with LOVE & PEACE, based on his original screenplay, written 25 years ago.

Set in Tokyo, failed musician Ryoichi Suzuki (played by Hiroki Hasegawa) works for a company that sells musical instrument components. His life is frustrating and miserable until one day Ryoichi finds a little pet turtle for sale. Their eyes meet. He knows that it's fate, that the turtle is his missing piece. He is convinced that the turtle will make his life full again. Ryuichi's luck starts to change but quickly spins out of control, triggering an unexpected chain of events with drastic implications for Japan.

LOVE & PEACE is a departure from Sono's recent radical and shocking films, yet like Sono's other films, the pace of the story is lightning-fast and larger than life, with down-and-out characters craving love and acceptance.
OFFICIAL SELECTION
Fantasia Film Festival 2015
Fantastic Fest 2015
Toronto AfterDark 2015
Leeds International Film Festival 2016
DIRECTOR'S BIO
Sion Sono is a Japanese filmmaker, author and poet. As a student he shot a series of short films in Super 8 and made his first feature films in the late 1980s and early '90s. Now an established cult and underground filmmaker, his recent films include LOVE EXPOSURE, COLD FISH and GUILTY OF ROMANCE.
press for Love & Peace
"Japanese gonzo auteur Sion Sono delivers a surreal musical comedy about a rock star and a super-sized turtle."
- The Hollywood Reporter
"Sono's most unabashedly entertaining, and thus perhaps his most successful film."
- Twitch Film
screened with a short film

Fish
Iran, 2015, 4 Minutes, Director Saman Hosseinpuor
An elderly couple runs out of water for their fishtank. The wife struggles until the husband unwillingly assists.
details
credits
Director/ Screenwriter
Sion Sono
Cinematographer
Nobuya Kimura
Music
Yasuhiko Fukuda
Cast
Kumiko Aso
Hiroki Hasegawa
Toshiyuki Nishida
Website
love-peace.asmik-ace.co.jp/
community
awards
Winner Fantasia - Best Asian Feature (Audience Choice) 2015
Winner Toronto After Dark - Best Comedy, Best Director, Best Screenplay 2015