Jack Of All Trades
Canada, 2018 : Canadian Premiere
Special Guest!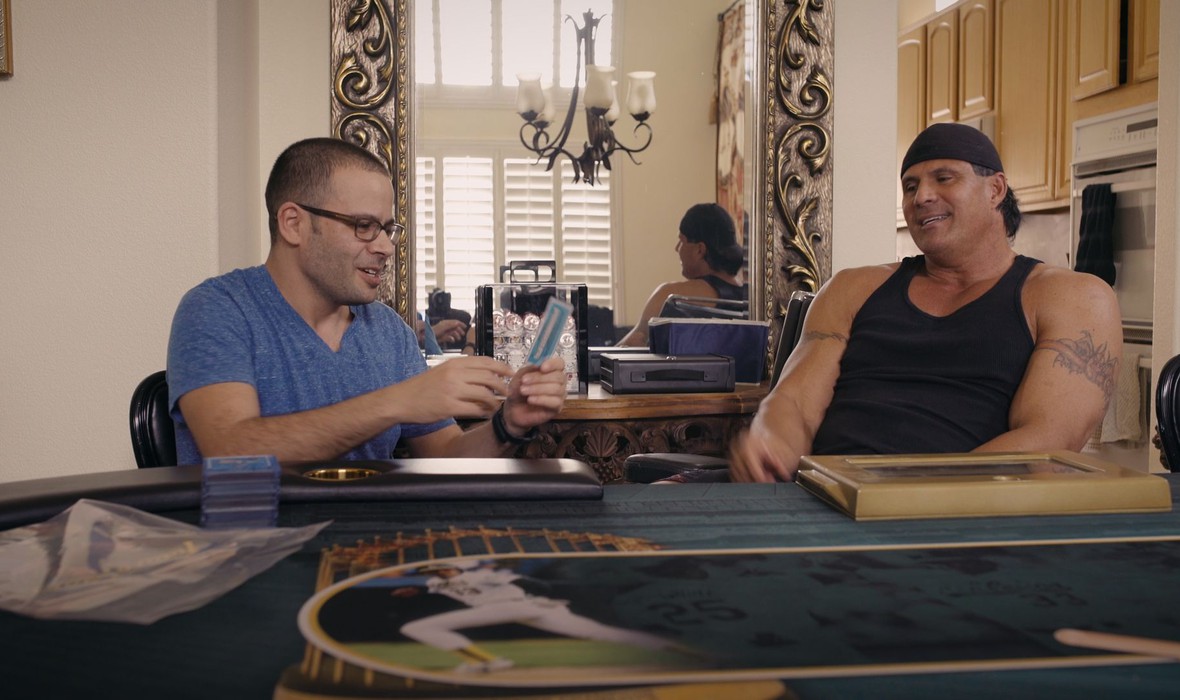 description
In the late '80s and early '90s, North America's favorite pastime was collecting baseball cards. People would invest millions in this game of pirate's treasure by putting their mint-condition gold in plastic sleeves, locking it away and hoping its value would continue to rise year after year. Unfortunately, this house of cards would soon collapse, leaving the pieces of cardboard along with the hopes and dreams of fathers and sons worthless. Former child actor Stu Stone (MAGIC SCHOOL BUS, DONNIE DARKO) was one of those sons, and his relationship with his father Jack, who was in the card business, would crumble with the industry. 25 years later, Stu is on a mission to discover why his beloved baseball cards are worth nothing more than the memories they hold of a happy childhood. What he didn't plan on finding, though, was the most elusive card of them all, his father Jack.
OFFICIAL SELECTION
Cinequest 2018
DIRECTOR'S BIO
Stu Stone is a producer, writer, director and former child actor best known for MAGIC SCHOOL BUS and DONNIE DARKO. He has worked on several TV shows and pilots for MTV, VH1, Spike TV and Dream Works TV including SHWAYZE, BROTHER BALDWIN, CRISS ANGEL: BELIEVE, I PRANKED MY PARENTS, and the new series JUNK DRAWER MAGIC. He has directed dozens of music videos, as well as the horror feature film THE HAUNTED HOUSE ON KIRBY ROAD, which he co-wrote with his 5'7 films partner Adam Rodness. Since forming the company, Stone has directed pilots for the shows HARDCORE HOME IMPROVEMENT, THE SHEIK SHOW, PROMPOSAL and the upcoming film SCARECROWS.
DIRECTOR'S BIO
Harv Glazer has directed several films including KICKIN IT OLD SKOOL (from Oscar-winning producer Bob Yari known for CRASH and THE ILLUSIONIST), the horror/comedy film BITTEN starring Jason Mewes, and VAN WILDER 3. Recently he has directed three feature-length documentaries: JACK OF ALL TRADES, SWEET DADDY SIKI, which revolves around the racial struggles of one of the first black wrestling superstars, and 20 MOVES, which explores the true origins of the world's best-selling puzzle toy the Rubik's Cube.
press for Jack Of All Trades
"JACK OF ALL TRADES is a documentary that will bring a wave of nostalgia to those who collected baseball cards while they were growing up...it's the wave of nostalgia that's going to make former collectors want to collect again."
- Solzman at the Movies
details
special guest
credits
Director
Stu Stone
Harv Glazer
Producers
Adam Rodness
Stu Stone
Karie Stone
Nick Sorbara
Harv Glazer
Screenwriter
Stu Stone
Editing
Igal Hecht
Cinematographer
Simon Shohet
Cast
Jose Canseco
Stu Stone
Official website:
http://www.fivesevenfilms.com
community