Crazy World
Uganda, 2019 : Alberta Premiere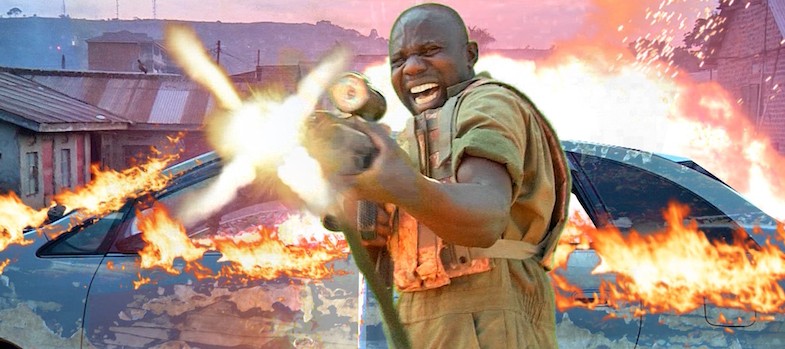 description
The latest Wakaliwood release, CRAZY WORLD is a violent action-packed Ugandan film about a gang of child-snatching mobsters called the Tiger Mafia. Operating under the belief that youth blood has supernatural properties, the Tiger Mafia develops a plan to sacrifice children as a scheme to get their blood. But when they kidnap the WAKA STARS, a badass team of kung-fu masters, the mafia is no match for the kids' cunning wits and deadly skills.

For the past 10 years, IGG Nabwana and his team of gonzo no-budget filmmakers have made movies in the slums of Kampala, Uganda. They've created dozens of action films and developed a cult fan following around the globe after the success of their outrageous cult film WHO KILLED CAPTAIN ALEX?

The Calgary Underground Film Festival is proud to be streaming a special version of CRAZY WORLD re-mixed by the filmmaking team just for CUFF!
OFFICIAL SELECTION
Toronto International Film Festival 2019
DIRECTOR'S BIO
IGG Nabwana was born in Kampala, Uganda and is the founder of the Wakaliwood filmmaking movement. Since 2005 he has directed nearly 50 features films, two of which, WHO KILLED CAPTAIN ALEX? (2010) and BAD BLACK (2016), were translated for an international release. The latest Wakaliwood latest release, CRAZY WORLD (2019), was selected as the Closing Night Film of TIFF's Midnight Madness Series.
CJSW Playlist curated by Helen Young of The Future Language (Fri. 2-4pm)
press for Crazy World
"For 65 glorious, gonzo minutes, put aside the troubles of this crazy world to enjoy CRAZY WORLD, the magnificently bonkers, self-described "Greatest Eva Kids Movie."
- Variety
"A surreal mix of Stephen Chow, Martin Scorsese, and TikTok before that was even a thing."
- Screen Rant
details
Luganda and English with English subtitles
63 min
credits
community