Dead Dicks
Canada, 2019 : Alberta Premiere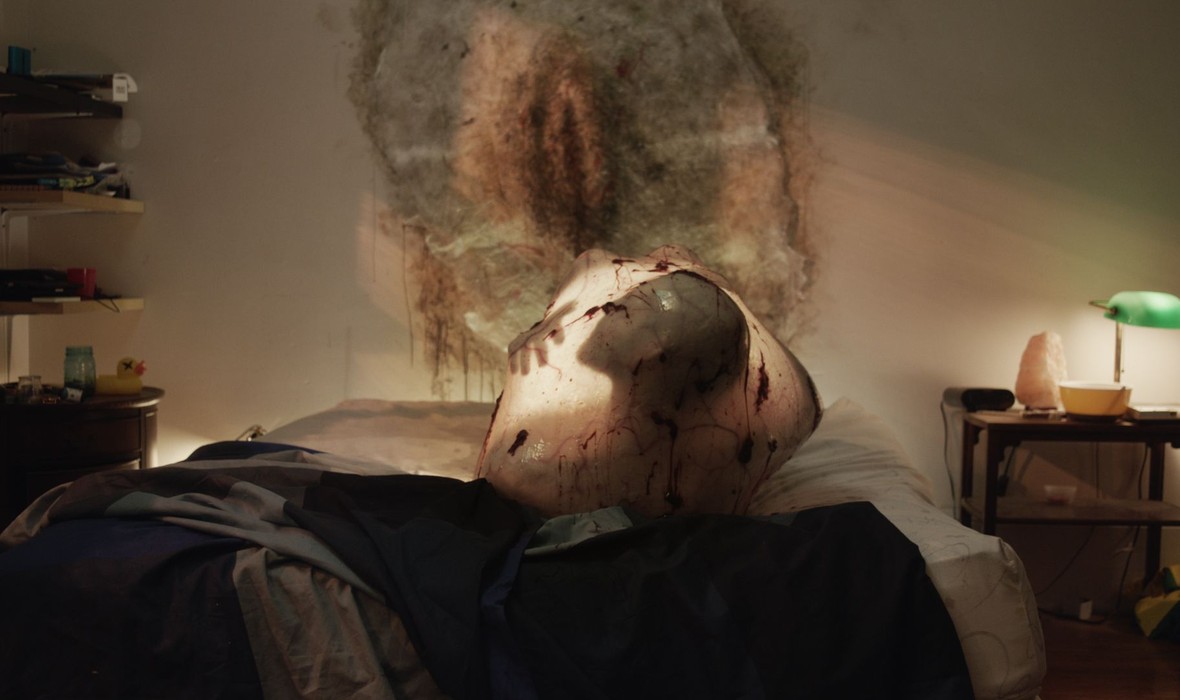 description
When a young nursing student named Becca receives a series of panicked messages from her older brother Richie, she rushes over to check on him. Following a seemingly successful suicide attempt, Richie, who suffers from mental illness, has discovered what appears to be his own dead body. When Becca gets to his apartment, they find more dead versions of Richie and together, try to figure out how and why he keeps being reborn each time he takes his own life.

The directorial debut of Canadian filmmaking team Chris Bavota and Lee Paula Springer, DEAD DICKS is an emotional rollercoaster; blending trippy horror, morbid humor, and heavy mental health themes to create a film that's challenging, grotesque and wildly entertaining.
OFFICIAL SELECTION
Fantasia International Film Festival 2019
Grimmfest Manchester 2019
Leeds International Film Festival 2019
Chattanooga Film Festival 2020
DIRECTOR'S BIO
Chris is an award-winning filmmaker raised on a steady diet of b-movie action and psychological horror. Beginning his career as a screenwriter, he has collaborated with multiple directors on commercial and narrative projects. His first feature-length script GHASTLIES was directed by Brett Kelly and released in 2017. DEAD DICKS is his feature film directorial debut.
DIRECTOR'S BIO
Lee has appeared in various films, including the National Film Board of Canada's SALT and the 2017 horror short EVEN THE DARKNESS HAS ARMS, in which she played the monster. In addition to working in front of the camera, Lee has adapted several French language film scripts (THE SINNER, THE TEMPEST), as well as the Spanish language novel Baile con serpientes into English. DEAD DICKS is her fourth feature-length screenplay and directorial debut.
CJSW Playlist curated by DJ Cosm of Mental Illness (Sun. 4-6pm)
press for Dead Dicks
"It delivers on the creep factor and keeps us off-balance and intrigued while rooting us in the concerns of its central duo."
- Rue Morgue
"DEAD DICKS is one of the most touching, powerful, emotional stories I've ever seen told in the genre ... it touched a nerve within me that no other horror film ever has."
- Nerdly.com
"DEAD DICKS is the surprise hit of this year's Fantasia Film Festival — an ingeniously engineered slash of modern horror that doubles as a poignant family drama addressing topics of dependency, identity, and mental illness."
- Sordid Cinema/Goomba Stomp
screened with a short film

Bark
Canada, 2019, 6:00 min. Dir. Ryan Irving
Two women desperately try to escape a stalking axe murderer through a city park. Unfortunately for them their only eye witness isn't human, and he's completely useless.
details
English
Closed Captions Available For On-Demand Screening
83 minutes
credits
community
awards
Winner, Audience Award, Best Canadian Film, Fantasia International Film Festival 2019
Winner, Best Foreign Film Another Hole in the Head Film Festival 2019