FLUX GOURMET
United Kingdom / United States, 2022 : Canadian Premiere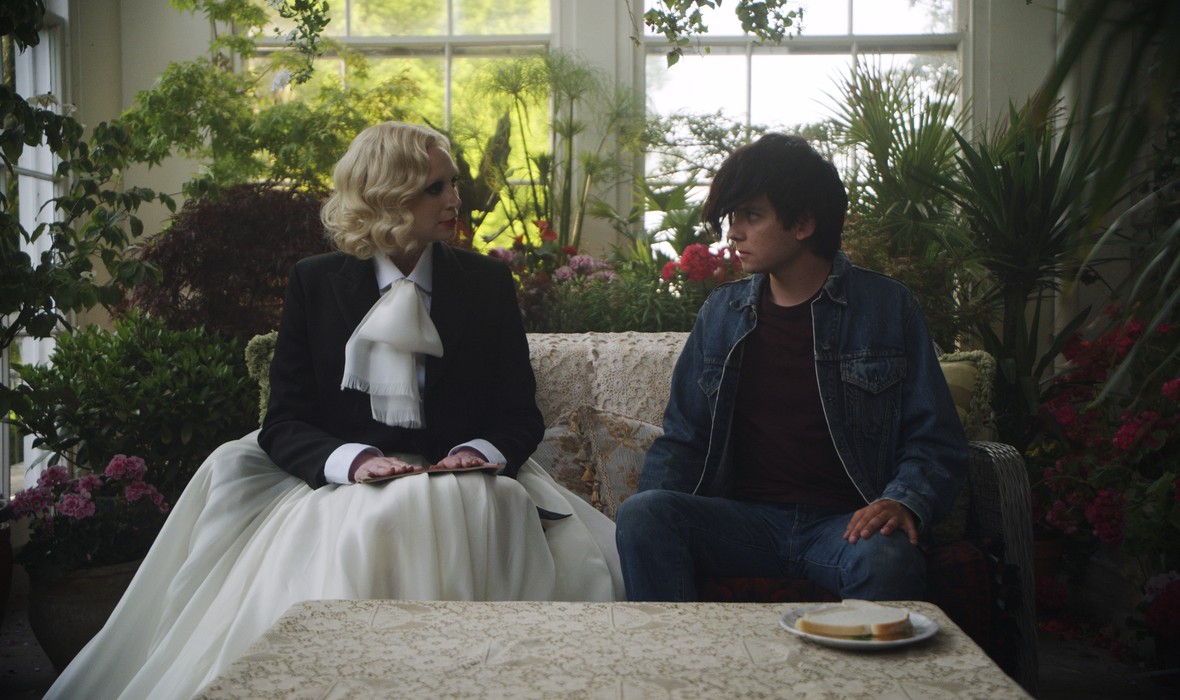 description
Set at an institute devoted to culinary and alimentary performance, a collective finds themselves embroiled in power struggles, artistic vendettas and gastrointestinal disorders in the latest release from arthouse auteur Peter Strickland.

The sonic collective Elle di Elle, Billy Rubin and Lamina Propria exacerbate their dysfunctional dynamic after moving to an institute devoted to culinary and alimentary performance. Soon they have to answer to the institute's head, Jan Stevens. With the various rivalries unfolding, Stones, the Institute's "dossierge" has to privately endure increasingly fraught stomach problems whilst documenting the collective's activities. Upon hearing of Stones's visits to the gastroenterologist, Elle coerces him into her performances in a desperate bid for authenticity. The reluctant Stones puts up with the collective's plans to use his condition for their art, whilst Jan Stevens goes to war with Elle over creative differences. Embodying his signature style of tragedy, sonic psychosis, bondage, retail nightmares and stomach problems, CUFF alumnus Peter Strickland (CUFF 2019 Jury Award Winner IN FABRIC, 2015 Selection THE DUKE OF BURGUNDY, and 2013 Selection BERBERIAN SOUND STUDIO), has created another unique picture that's sure to satisfy fans of his previous work.
OFFICIAL SELECTION
Berlin International Film Festival 2022
Seattle International Film Festival 2022
DIRECTOR'S BIO
British filmmaker Peter Strickland started making short films on Super 8 and 16mm in the early '90s. After a long hiatus making culinary soundscapes with The Sonic Catering Band, he returned to film in the early part of this century, making his first feature KATALIN VARGA in 2009. Next came the art house hit, THE DUKE OF BURGUNDY (2014), several radio plays, a concert film for Björk co-directed with Nick Fenton (2014), and the highly-acclaimed IN FABRIC (2018).
press for FLUX GOURMET
"As usual, Strickland has made a sumptuous meal out of social impropriety -- a strange cinematic delicacy about the discomforts that need to be shared so that others don't have to be stomached."
- IndieWire
"Auteur-of-the-offbeat Peter Strickland has delivered another compellingly strange blend of the hilarious and the horrifying."
- Time Out
details
credits
Director
Peter Strickland
Screenwriter
Peter Strickland
Producers
Serena Armitage
Pietro Greppi
Executive Producers
Stephen Kelliher
Sophie Green
Arianna Bocco
Betsy Rodgers
Phil Hunt
Compton Ross
Ian Benson
Cinematographer
Tim Sidell
Cast
Asa Butterfield
Gwendoline Christie
Ariane Labed
Fatma Mohamed
Makis Papadimitrou
community