Rhymes For Young Ghouls - National Canadian Film Day Free Screening
Canada, 2013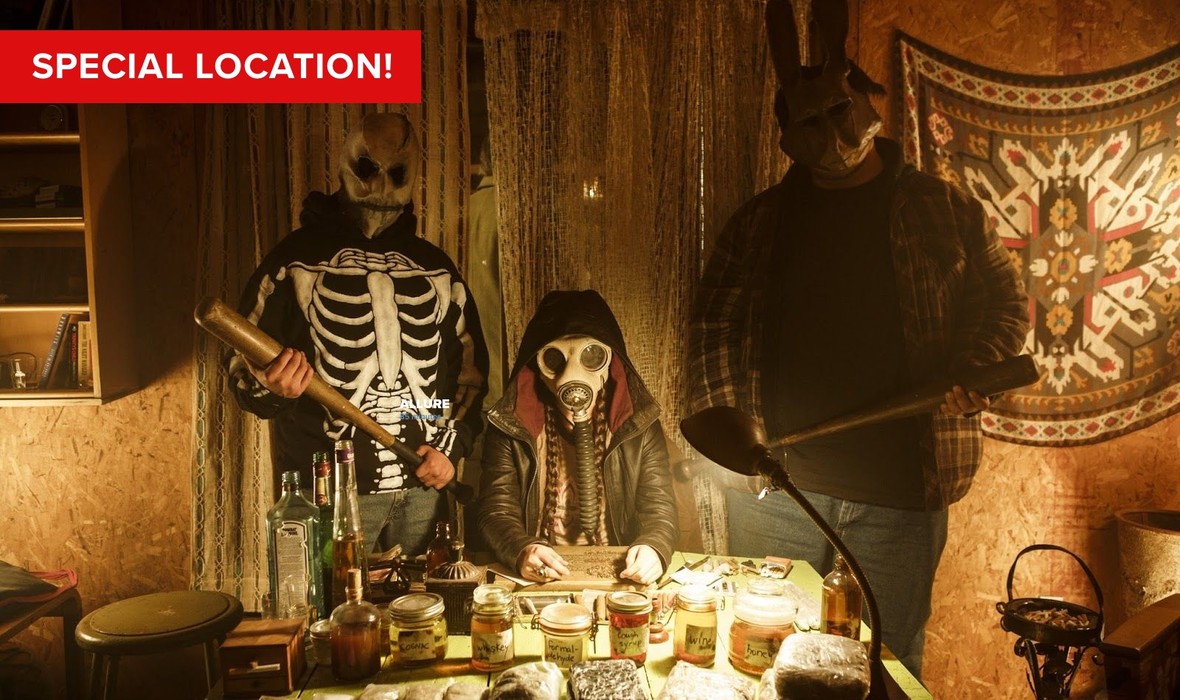 description
We love Canadian cinema and each year we champion a beloved Canadian film as part of National Canadian Film Day. This year's free NCFD screening is the 2013 indie breakout RHYMES FOR YOUNG GHOULS (2013), the Indigenous-focused debut of writer-director Jeff Barnaby.
Get a jump start on CUFF and join us on Wednesday, April 20 – the night before the festival starts – at Canyon Meadows Cinemas for this free event. Location: Bay 110, 13226 Macleod Trail .S.E Calgary Alberta. (map)
RHYMES FOR YOUNG GHOULS
Set on the fictional Red Crow Mi'gMaq reservation in the year 1976, by government decree, every Indian child under the age of 18 must attend residential school. In the kingdom of the crow, that means imprisonment at St. Dymphna's. That means being at the mercy of "Popper" (Krupa), the sadistic Indian agent who runs the school. At 15, Aila is the weed princess of Red Crow. Hustling with her uncle Burner, she sells enough dope to pay Popper her "truancy tax", keeping her out of St. D's. But when Aila's drug money is stolen and her father returns from prison, the precarious balance of Aila's world is destroyed. Her only options are to run or fight... and Mi'gMaq don't run.

NATIONAL CANADIAN FILM DAY
An initiative of Reel Canada, National Canadian Film Day is a massive one-day, coast-to-coast-to-coast celebration of Canadian cinema. Each year, CUFF hosts Calgary's flagship event, and this year's screening RHYMES FOR YOUNG GHOULS will take at Canyon Meadows Cinemas. Tickets are free, but you must claim one in advance to attend.
OFFICIAL SELECTION
Toronto International Film Festival 2013
International Film Festival Rotterdam 2014
DIRECTOR'S BIO
Jeff Barnaby was born on a Mi'gmaq reserve in Listujug, Quebec. His filmmaking paints a stark and scathing portrait of post-colonial aboriginal life and culture. His short films include the Genie Nominated File Under Miscellaneous, the TIFF Top Ten and Jutra Nominee The Colony and the Sundance Official Selection From Cherry English. RHYMES FOR YOUNG GHOULS (2013) is his debut feature film, followed by BLOOD QUANTUM (2019).
press for Rhymes For Young Ghouls - National Canadian Film Day Free Screening
"The arrival of genuine cinematic intelligence."
- The Globe and Mail
"Writer-director Barnaby weaves a surprising amount of tenderness into the fabric of violence, as well as a good measure of magic realism, to keep the gritty story engaging."
- Los Angeles Times
details
credits
Director
Jeff Barnaby
Producers
Aisling Chin-Yee
John Christou
Screenwriter
Jeff Barnaby
Cinematographer
Michel St-Martin
Cast
Devery Jacobs
Glen Gould
Brandon Oakes
Roseanne Supernault
Mark Antony Krupa
Musics
Jeff Barnaby
Joe Barrucco
community
awards
Winner Tribeca All Access, Creative Promise Award for Narrative 2012
Winner Best Canadian Feature Film, Vancouver International Film Festival 2013
Presenting Partner