Saloum
Senegal, France, 2021 : Alberta Premiere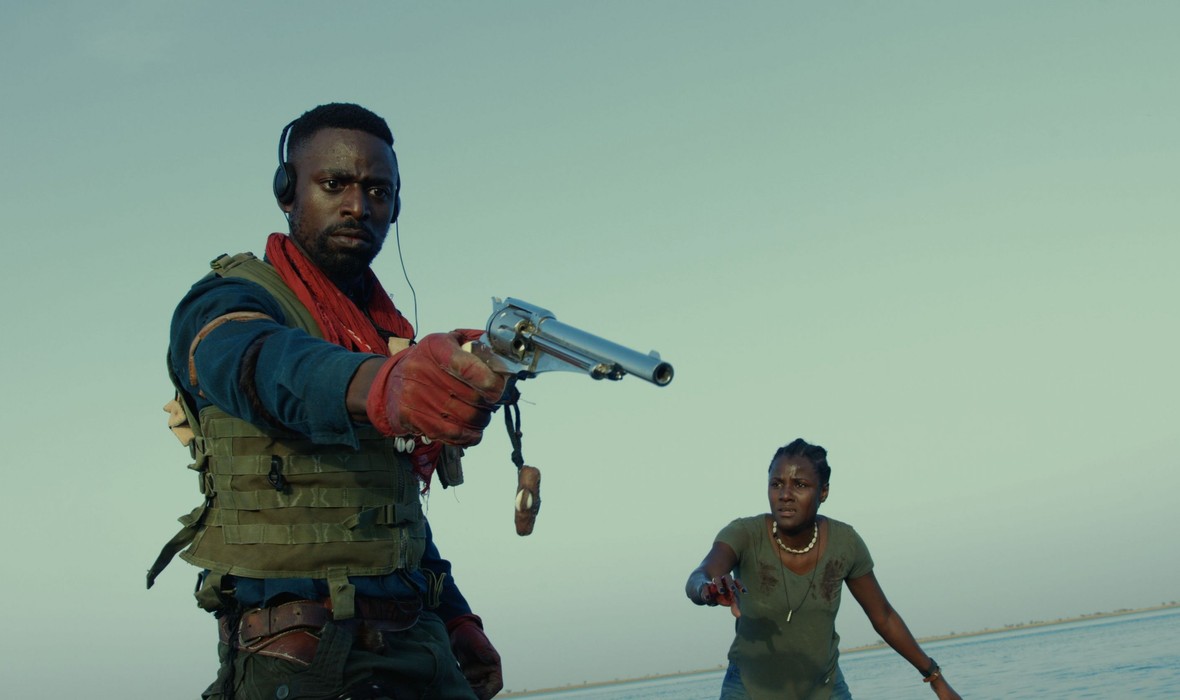 description
In Jean Luc Herbulot's cool and kinetic genre-shifting supernatural thriller, a legendary trio of on-the-run mercenaries carrying a stolen gold bounty and a kidnapped drug lord take refuge in a remote and mystical area of Senegal, where dark ancestral forces unleash hell on them all.

Shot down after fleeing a coup and extracting a drug lord from Guinea-Bissau, the legendary mercenaries known as the Bangui Hyenas – Chaka, Rafa and Midnight - must stash their stolen gold bounty, lay low long enough to repair and refuel their plane and escape back to Dakar, Senegal. When they take refuge at a holiday camp in the coastal region of Sine-Saloum, they do their best to blend in with their fellow guests; including a mute named Awa, with secrets of her own, and a policeman who may be on their tail, but it's Chaka who happens to be hiding the darkest secret of them all. Unbeknownst to the other Hyenas, he's brought them there for a reason and once his past catches up to him, his decisions have devastating consequences, threatening to unleash hell on them all. World Premiere, TIFF Midnight Madness 2021.
OFFICIAL SELECTION
Toronto International Film Festival 2021
Vancouver International Film Festival 2021
Fantastic Fest 2021
Beyond Fest 2021
International Film Festival Rotterdam 2022
DIRECTOR'S BIO
Jean Luc was born and raised in Congo Brazzaville. In 2004 created his own production company and directed his first short movie VIERGE(S), followed by LOYAL COMPETITION (2009). In 2014 he shot his first feature DEALER, which became the first French indie movie bought by Netflix. He moved back to Africa in 2017, and created, directed and operated as showrunner for the TV series SAKHO & MANGANE (2019). In 2019 partnered with producer Pamela Diop in Dakar, Senegal to start LACME STUDIOS, as a way to create a stronghold for African filmmaking, starting with SALOUM (2020). ZER0 (2022), which he wrote and directed in Dakar, Senegal and is now in post-production.
press for Saloum
"[SALOUM] freely mixes and marries the cinematic languages of spaghetti Westerns, samurai dramas and classic monster movies to tell an exciting and distinctly African story."
- Variety
"Strap in; Jean Luc Herbulot's Saloum is nothing less than 84 minutes of pure African genre mayhem, with little interest in pausing long enough for you to catch your breath."
- Film International
details
Wolof | English Subtitles
80 minutes
credits
Director
Jean Luc Herbulot
Producer
Pamela Diop
Screenwriters
Pamela Diop
Jean Luc Herbulot
Cinematographer
Gregory Corandi
Cast
Yann Gael
Evelyne Ily Juhen
Roger Sallah
Mentor Ba
Music
Reksider
community
Community Partners