Pussy Riot - A Punk Prayer
UK/ Russia, 2013 : Alberta Premiere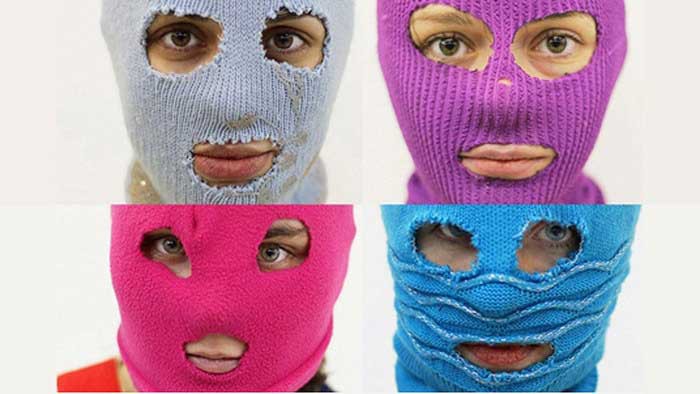 Watch Live
Only at the scheduled time:
description
This is the incredible story of three young women know as Pussy Riot who performed a "punk prayer" inside Russia's main cathedral openly challenging the Russian Orthodox Church and President Vladimir Putin. This performance led to their arrest on charges of blasphemy and "disrupting the social order" and culminated in a trial that has reverberated around the world and transformed Russian society forever. Following the intricate twists of the trial, we learn what transformed these women from political activists in to modern icons. With unparalleled, exclusive access, the film looks at the real people behind the famous colourful balaclavas.

This incendiary documentary examines just how distorted Russia's social order has become and illustrates the importance of wanton rebellion in the face of authoritarianism. When everyone is terrified of speaking out against the state, sometimes there's no other recourse than thrashing and wailing.

OFFICIAL SELECTION:
Sundance Film Festival 2013
SXSW 2013
BFI London Film Festival 2013
HOTDocs 2013
** AFTER-PARTY @ Vern's (across the street from the Globe) Featuring The Throwaways & Hag Face. No cover charge! Everyone is welcome to come over.
press for Pussy Riot - A Punk Prayer
"A compelling story of suffering for your art"
- Total Film
"The story is powerful, the people and battlelines perfectly drawn"
- Time Out London
screened with a short film

Vladimir Putin in Deep Concentration
USA, 2013, 9 min, Directors Dana O'Keefe and Sasha Kilment
Vladimir Putin is the most powerful man in the world.
details
Russian with English Subtitles
Licensed Screening 18+
86 Minutes
credits
Directors:
Maxim Pozdorovkin, Mike Lerner

Producers:
Maxyne Franklin, Nick Fraser, Xenia Grubstein

Featuring:
Mariya Alyokhina, Ekaterina Samutsevich, Nadezhda Tolokonnikova

Music:
Simon Russell, Pussy Riot

Facebook
community
awards
Special Jury Prize World Cinema Documentary Sundance Film Festival 2013