Giuseppe Makes A Movie
USA, 2014 : Alberta Premiere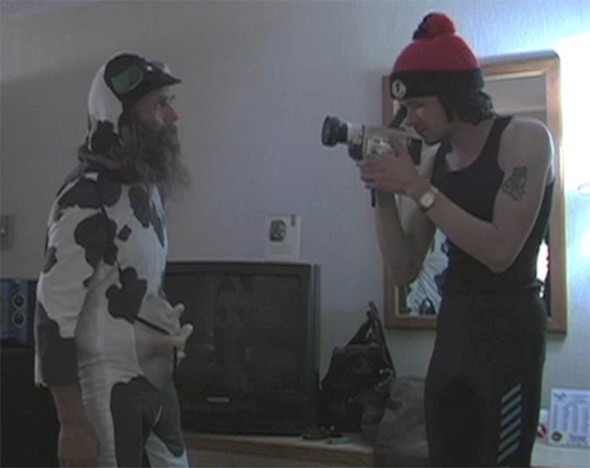 description
With almost no money, a handwritten script, an out of date video camera, and an untrained acting ensemble comprised of neighbors and homeless friends, Giuseppe Andrews makes movies in the California trailer park where he grew up, with his father standing in as producer. Although the former child actor stared in Blockbuster movies including INDEPENDENCE DAY and DETROIT ROCK CITY, Giuseppe is far more inspired by the outsider art films of Bunuel, Cassavetes and Fassbinder. Obsessed with the edges of society, dirty language spoken as poems and occasional nudity, Giuseppe's films may resemble the underground worlds of Harmony Korine, John Waters and Tod Browning. His films frequently feature alcohol abuse, drug use, dollar store costumes and perverted poetry but are full of heart and creativity. GIUSEPPE MAKES A MOVIE follows the self-taught auteur filmmaker as he sets out to make a feature film in only two days.
Skype Q&A with the filmmaker following the screening!
OFFICIAL SELECTION:
Hot Docs 2014
Los Angles Film Festival 2014
Rooftop Film Summer Series 2014
DIRECTOR'S BIOGRAPHY:
Adam Rifkin is a Writer/Director/Producer/Actor whose eclectic career ranges from broad family comedies to cult classics to dark and gritty urban dramas. Most recently Rifkin wrote, directed, produced and starred in REALITY SHOW, a 2013 darkly satirical film about the world of reality television.
press for Giuseppe Makes A Movie
"A hilarious and disarmingly kind hearted look at a thoughtfully silly iconoclast who came from nothing and continues to do his own thing."
- Dorkshelf.com
"This is a weirdly compelling look at a weirdly compelling auteur."
- LA Times
screened with a short film

One Year Lease
Director Brian Bolster, USA, 2014, 11 minutes
Told entirely through voice mail messages, Brian captures what it's like to live beneath his eccentric cat-loving landlady, Rita.
details
Licensed Screening 18+
82 minutes
credits
Director:
Adam Rifkin
Producer:
Mike Plante, Adam Rifkin
Cast:
Giuseppe Andrews, Big Ed, Mary, Vietnam Ron, Miles Dougal, Walt Dongo
Website:
giuseppemakesamovie.com
Twitter:
@giuseppeandrews
community