Breaking A Monster
USA, 2015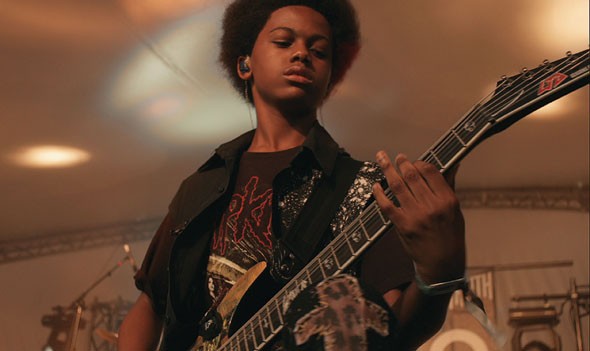 description
BREAKING A MONSTER begins as the three members of band UNLOCKING THE TRUTH are in 7th grade. Spending their weekends playing a heavy metal in Times Square, often drawing substantial crowds, they soon take on an industry veteran manager. With his guidance they land a $1.8 million dollar record deal. The boys are coming of age, not only as they make the leap to being professional musicians, but also as they transcend childhood and take their first steps into the complexities of adulthood. The accelerated breakout of any band, let alone one of pre-teens, is an extremely narrow and specific period in time – BREAKING A MONSTER is the story of this rapid transformation.
OFFICIAL SELECTION:
HotDocs 2015
SXSW 2015
Sheffield Doc/Fest 2015
Stockholm International Film Festival 2015
DIRECTOR BIO:
Luke Meyer's first feature documentary, DARKON, won the Documentary Audience Award at the SXSW in 2006. He directed the documentary NEW WORLD ORDER which started airing on IFC in 2009, breaking the channel's records for documentary VOD numbers. He has edited, written and produced other award-winning films (KING KELLY, ALICE NEEL, THE FEATURE), and is part of SeeThink Films in New York.
press for Breaking A Monster
"An affecting, often hilarious portrayal of juvenile stardom."
- The Guardian
details
credits
Director
Luke Meyer
Executive Producers
Andrew Neel, Alan Sacks, Ellen H Schwartz
Producers
Tom Davis, Molly Smith, Thad Luckinbill, Trent Luckinbill
Cinematographers
Ethan Palmer, Hillary Spera
Cast
Malcolm Brickhouse, Jarad Dawkins, Alec Atkins, Alan Sacks, Noreen Jackson, Tracey Brickhouse
Music
Unlocking The Truth
Editing
Brad Turner
Writer
Luke Meyer, Brad Turner
Website
www.seethink.com/breaking-a-monster
Facebook
www.facebook.com/breakingamonster
Twitter
@BreakingaMonstr
community
Community Partners