Frank and the Wondercat
Canada, 2015
Special Guest!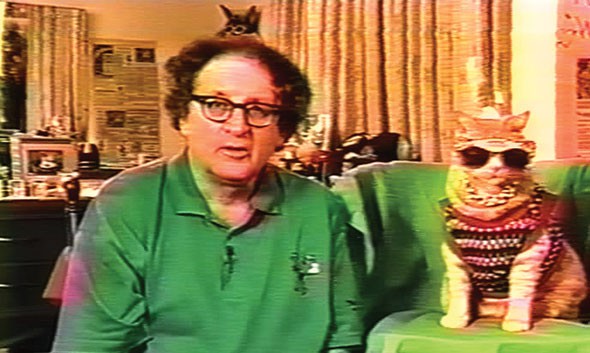 description
Directors Tony Massil and Pablo Alvarez-Mesa's creative documentary follows Frank Furko, an 80-year-old eccentric living in a Pittsburgh suburb. The film focuses on Frank's celebrity, which derives from a deeply felt friendship with Pudgie Wudgie, his 20-pound performing house cat. Supported by Frank's 20 years of VHS video archives— mesmerizing footage that is strange, often hilarious and oddly beautiful—this is an intimate and thoughtful portrait of an older man struggling to come to terms with his very unusual past.
OFFICIAL SELECTION:
Vancouver International Film Festival 2015
DIRECTORS BIO:
Tony Massil is a Vancouver based filmmaker whose work focuses on the themes of family, history and place. He has screened to international audiences in festivals such as TIFF, SXSW, True/False, VIFF and AFI DOCS. In 2010, he was chosen for the TIFF Talent Lab filmmaker development conference and its emerging filmmaker competition and selected for the RIDM Industry Conference in 2013 as part of the Rough Cut Sessions. FRANK AND THE WONDERCAT is his first feature film. Growing up he had a fat cat named Ralph, who was black and white and didn't do any tricks.
Pablo Alvarez-Mesa (born in Medellin, Colombia) moved to Vancouver, BC in 2001 to pursue a BFA in Film Production at Simon Fraser University. His films have since played at international film festivals including Rotterdam, Sheffield, Hot Docs, AFI Silverdocs, and RIDM. His credits include PRESIDIO MODELO, JELENA'S SONG (which he created with the National Film Board of Canada), and the short documentaries CUANDO SUENA EL CLARÍN (Hot Docs 2012) and SPEAKING INTO THE AIR (International Film Festival Rotterdam 2015). Most recently, Alvarez-Mesa completed his first feature-length documentaries, NUESTRO MONTE LUNA (Hot Docs 2015), and FRANK AND THE WONDERCAT (VIFF 2015). Alvarez-Mesa holds an MFA in Film Production from Concordia University.
press for Frank and the Wondercat
"A beautifully crafted film"
- POPOPTIQ
screened with a short film

World Famous Gopher Hole Museum
Canada, 19 Minutes, 2015, Director Chelsea McMullan, Douglas Nayler
The story behind the renowned Gopher Hole Museum in Torrington, Alberta.
details
18+ Licensed Screening
67 Minutes
special guest
Director Tony Massil in attendance!
credits
Director
Pablo Alvarez-Mesa, Tony Massil
Producers
Tony Massil, Pablo Alvarez-Mesa
Cinematographers
Tony Massil, Pablo Alvarez-Mesa
Cast
Frank Furko, Pudgie Wudgie
Music
Matthew Griffin
Editing
Tony Massil
Website
http://www.wondercatfilm.com
Facebook
www.facebook.com/wondercatfilm
Twitter
community
Community Partners