Peggy Guggenheim: Art Addict
USA, 2015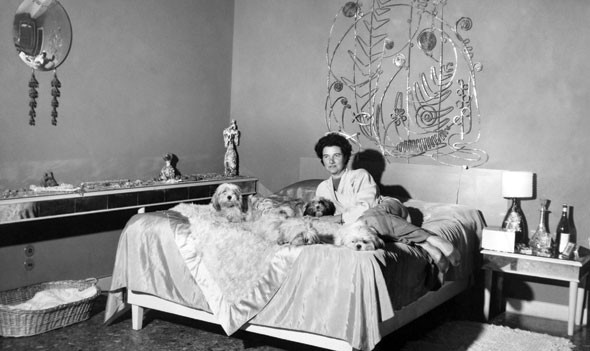 description
Lisa Immordino Vreeland's follow-up to her acclaimed film debut DIANA VREELAND: THE EYE HAS TO TRAVEL focuses on the life and work of Peggy Guggenheim, one of the leading figures in the modern art movement. A colourful character, Guggenheim was an heiress to her family fortune in New York but earned a name for herself as an active and influential arts patron. Her history included personal relationships with the most prominent artists of the era – Samuel Beckett, Max Ernst, Jackson Pollock, Alexander Calder, Marcel Duchamp and countless others. From showcasing the work of many of these figures in her London and New York galleries, to safeguarding artwork during the Second World War, the modern art world would certainly be a different scene today if not for Peggy Guggenheim.
OFFICIAL SELECTION:
Tribecca Film Festival 2015
AFI Docs Festival 2015
San Francisco Jewish Film Festival 2015
Vancouver International Film Festival 2015
Stockholm International Film Festival 2015
Chicago International Film Festival 2015
DIRECTOR BIO:
Italian director Lisa Immordino Vreeland adapted her book DIANA VREELAND: THE EYE HAS TO TRAVEL into her first documentary. It won the Silver Hugo at the Chicago Film Festival. PEGGY GUIGENHEIM: ART ADDICT is her second feature film.
press for Peggy Guggenheim: Art Addict
"One of the most fascinating art-world characters who wasn't an artist herself."
- THE HOLLYWOOD REPORTER
"Highly recommended for art lovers"
- INDIEWIRE
details
credits
Director
Lisa Immordino Vreeland
Executive Producers
Maja Hoffmann, Josh Braun, Bob Benton
Producers
Stanley Buchthal, David Koh, Dan Braun, Lisa Immordino Vreeland
Screenplay
Bernadine Colish, Lisa Immordino Vreeland, John Northrup
Cinematographer
Peter Trilling
Music
J. Ralph
Editing
Bernadine Colish, Jed Parker
Website
www.guggenheimfilm.co.uk
Facebook
www.facebook.com/guggenheimfilm
Twitter
@guggenheimfilm
community
Presenting Partner

Community Partners