details
special guest
Director Lewis Bennett in attendance!
credits
community
awards
WINNER: Audience Award, Best Documentary Feature - CUFF.Docs 2015
The Sandwich Nazi
Canada, 2015
Special Guest!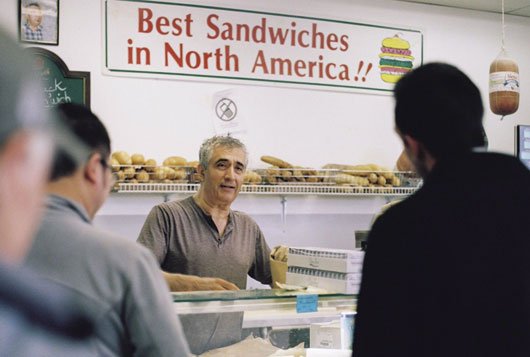 description
Deli owner Salam Kahil is an art collector, a former male escort, an amateur musician, and a sandwich maker to the homeless in Vancouver's poorest neighbourhood, but his true passion is talking about blowjobs. THE SANDWICH NAZI follows Kahil as he struggles to come to terms with aging, failing health, and a past that forced him to flee his home in Lebanon as a child. Yet, in something of a surprise twist, the man he has become loves people very deeply. It's clear in every moment that we see him at the deli, that he gets so much joy out of the company of the people around him. Salam has managed to channel all of this pain from his youth into some of the funniest anecdotes and stories that you'll ever hear. THE SANDWICH NAZI is about finding a new family when the one you're born with doesn't work out.
OFFICIAL SELECTION:
SXSW 2015
HotDocs 2015
Vancouver International Film Festival 2015
DIRECTOR BIO:
Lewis Bennett is a director and editor based in Vancouver. His short comedic documentaries have screened at film festivals such as Slamdance and TIFF and he was a recent winner of the A&E Short Filmmakers Award for Best Film at the NSI Online Short Film Festival. His feature-length documentary debut, THE SANDWICH NAZI premiered at SXSW 2015.
press for The Sandwich Nazi
"The subject ... Is one of those classic obnoxious-in-a-lovable-way eccentrics."
- VARIETY
screened with a short film

Ron Taylor: Dr. Baseball
Canada/USA, 18 Minutes, 2015, Directors Drew Taylor and Matthew Taylor
Ron Taylor was a Major League pitcher for 11 years. After his baseball career, he went to medical school, eventually becoming the team physician for the Toronto Blue Jays. Audience Award – Best Short Film, Cinéfest Sudbury 2015