Gaza Surf Club
Germany, 2016 : Alberta Premiere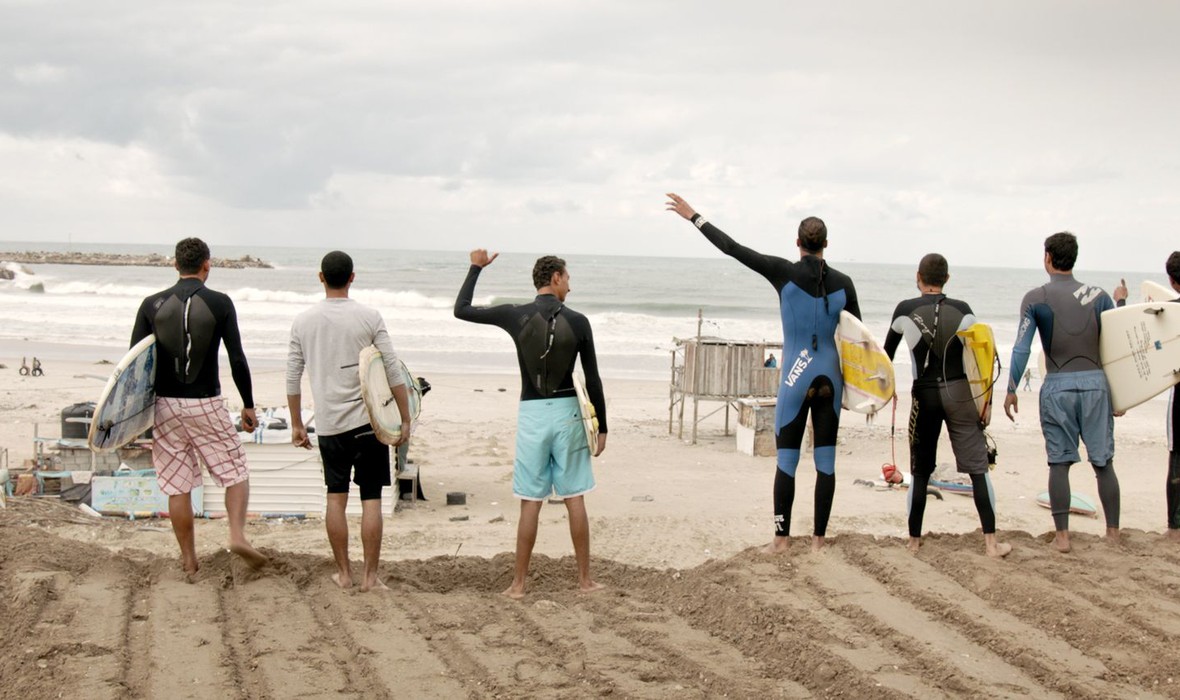 description
Trapped in "the world's largest open-air prison" and ruled by war, a new generation is drawn to the beaches. Sick of occupation and political gridlock, they find their own personal freedom in the waves of the Mediterranean – they are the surfers of Gaza.

Gaza, a strip of land with a population of 1.7 million citizens, is wedged between Israel and Egypt and isolated from the outside world. Yet, against this background there is a small movement.

About 40 surfboards have been brought into the country despite strict sanctions. It is those boards that give surfers an opportunity to experience a small slice of freedom – between the coastal reminder of a depressing reality and the Israeli-controlled three-mile marine border.
OFFICIAL SELECTION
Toronto International Film Festival 2016
IDFA 2016
DIRECTORS' BIOS
Philip Gnadt gained first experiences as a camera assistant for five years in TV and cinema productions, before studying at the Media University in Stuttgart. In 2003 he received the sponsorship prize of the Baden-Wuerttemberg Film Industry for this documentary PAULA. His graduation film ZWÖLF SEITEN earned him the award at the Independent Days Karlsruhe in 2010. He founded the production company Substanz Film in 2003 while also working as a freelance director for corporate and documentary films. Together with Mickey Yamine (Little Bridge Pictures) he has been pursuing GAZA SURF CLUB since 2012.
Mickey Yamine grew up in Cairo (Egypt) and moved to Germany at 18. After various jobs in film and TV, he began his studies in film production at the HFF Film University in Babelsberg. He completed his graduation-film TROPIC OF BEAR in 2010, which won an honorable mention at Festival del Film in Locarno and was aired on German TV. Ever since he has been producing numerous films and TV commercials in Cairo and Berlin. He founded the Berlin-based production company Little Bridge Pictures in 2013, together with fellows Andreas Schaap and Benny Theisen. His latest productions include THE LAST COMPARTMENT (2016), GAZA SURF CLUB (2016) and PRINT THE LEGEND (pre- production).
press for Gaza Surf Club
"The film delivers bracing evidence of the lure of the ocean, and of why [documentary subject] Abu Jayab says that 'in the waves, I'm in a different place, a different world."
- The Hollywood Reporter
"Directors Philip Gnadt and Mickey Yamine have ridden the big wave with this superb documentary."
- Dorkshelf
screened with a short film
Surf Anywhere
Canada, 2016, 10 Minutes, Director Desiree Bilon
You can surf anywhere – even 1500m above sea level and 1000km away from the nearest ocean.
details
Arabic and English, with English Subtitles
18+ Licensed Screening
87 minutes
credits
community
Community Partners