The Happy Film
United States, 2016 : Alberta Premiere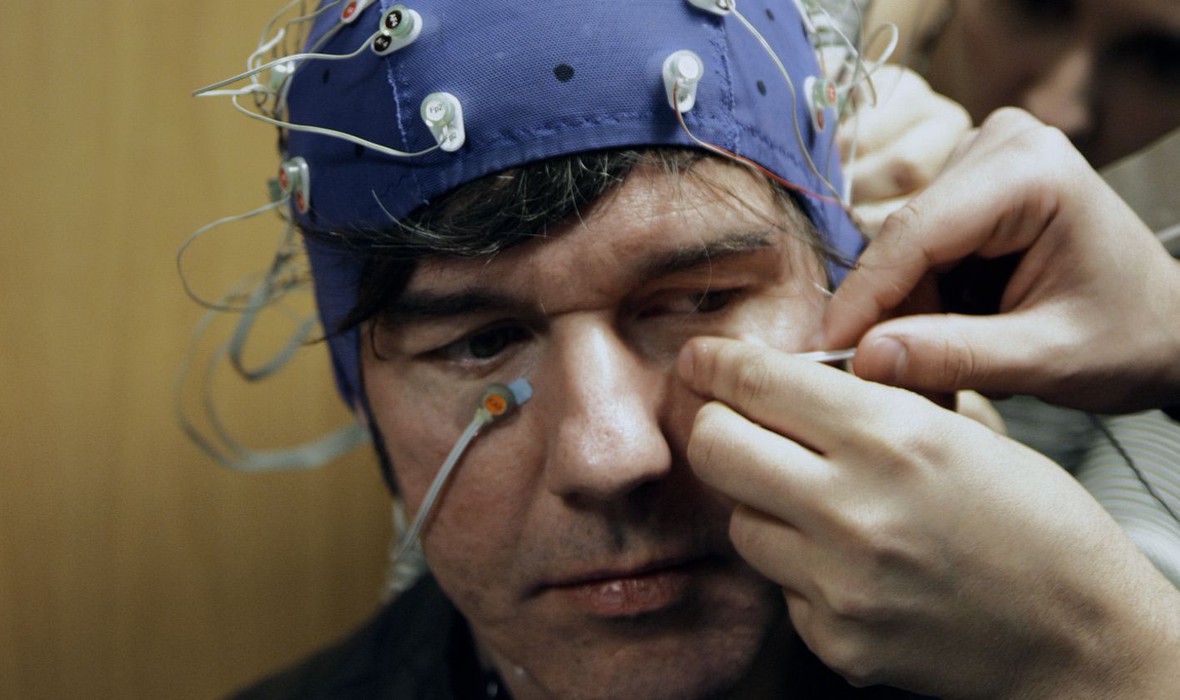 description
Austrian graphic designer Stefan Sagmeister is doing well. He lives in New York, and he has success in his work, designing album covers for the Rolling Stones, Jay-Z and the Talking Heads.

In the back of his mind he suspects there must be something more and so he decides to turn himself into a design project. Is it possible to train his mind to get happier? He pursues three controlled experiments of meditation, therapy, and drugs, grading himself along the way. But real life creeps in and confounds the process: art, sex, love, and death prove impossible to disentangle. His unique designs and painfully personal experiences mark a journey that travels closer to himself than ever intended.
OFFICIAL SELECTION
Tribeca Film Festival 2016
HotDocs 2016
Sheffield Doc Fest 2016
Leeds International Film Festival 2016
DIRECTOR'S BIOS
Stefan Sagmeister formed the New York based Sagmeister Inc. in 1993 and has since designed for clients as diverse as the Rolling Stones and the Guggenheim Museum. Besides two Grammies he also won practically every important international design award. In 2012 young designer Jessica Walsh became a partner and the company was renamed into Sagmeister & Walsh. His Happy Show has attracted over a quarter of a million visitors worldwide, and counting, and is the most visited graphic design exhibit in history. The Happy Film is his first film. More info on his work is available here: www.sagmeisterwalsh.com
Ben Nabors is a New York-based filmmaker. His debut feature documentary William and the Windmill, about windmill inventor William Kamkwamba, won the Grand Jury Prize at the 2013 SXSW Film Festival. He co-wrote and produced the short film PALIMPSEST, which premiered at the Sundance Film Festival (2013) where it won a Special Jury Prize. In 2015, he wrote and produced ACTOR SEEKS ROLE, starring Alex Karpovsky and Dylan Baker, which won the Grand Jury Prize at IFFBoston and had its online premiere with The New Yorker. Filmmaker Magazine named Ben amongst the 25 New Faces of Independent Film, and GOOD Magazine recognized him as a GOOD 100. More info on his work is available here: www.grouptheory.com
Hillman Curtis was a filmmaker, new media designer, author, husband and father. His film work includes RIDE, RISE, ROAR, a feature length documentary about David Byrne which premiered at SXSW 2009, as well as the popular online documentary series ARTIST SERIES. He passed away in April 2012. More info on his work is available here: www.hillmancurtis.com
press for The Happy Film
"From its striking animal-themed opening credits to its use of bunraku puppetry to such whimsical sequences as Sagmeister being lifted into the sky by a giant balloon, THE HAPPY FILM makes clear that Sagmeister is happiest when he's practicing his craft."
- The Hollywood Reporter
"The fast-paced, painfully honest, stressfully contemplative movie ... will trigger rushes of insight, empathy and voyeuristic pleasure."
- Wired
details
18+ Licensed Screening
95 minutes
credits
community
Community Partners