Kate Plays Christine
United States, 2016 : Alberta Premiere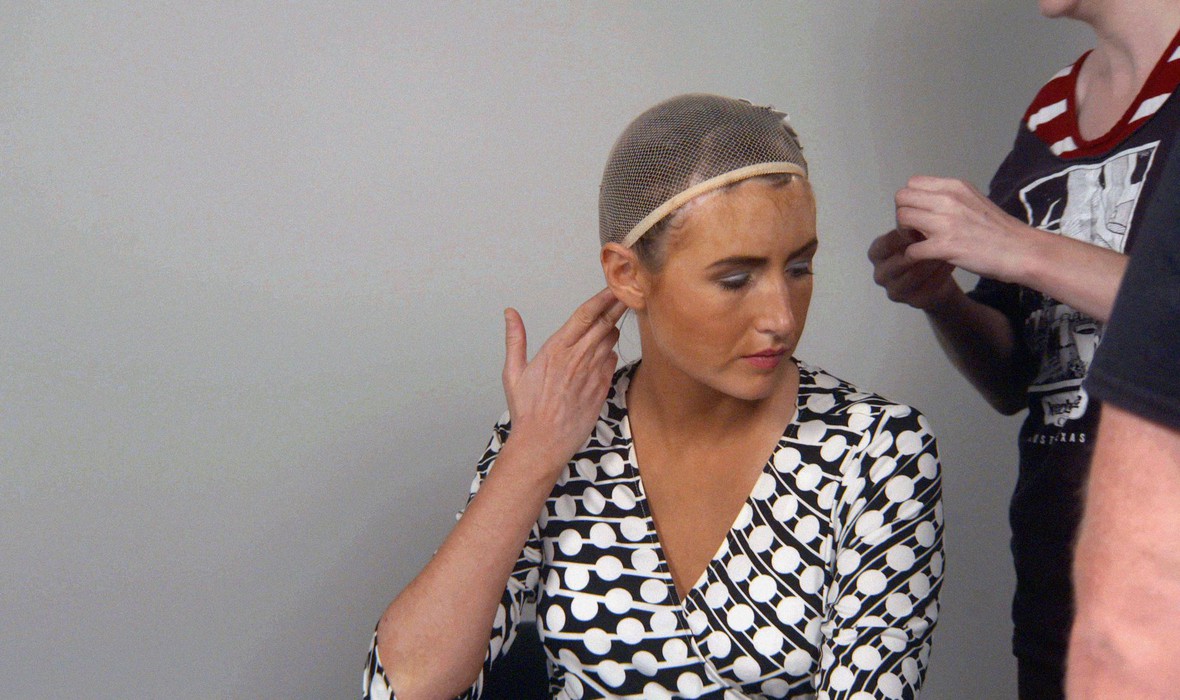 description
Filmmaker Robert Greene cleverly forgoes your standard talking-head-and-sound-bite approach to nonfiction storytelling, instead choosing to employ actress Kate Lyn Sheil (HOUSE OF CARDS, THE COLOR WHEEL, YOU'RE NEXT) as a conduit to understanding an impossibly complex issue.
Cast as Christine Chubbuck – a local Florida newscaster who committed suicide by shooting herself in the head on live television in 1974 – Kate travels to Christine's hometown and candidly pulls back the curtain on her acting process to get into the role of Christine. Committed to doing justice to Christine's life, Kate reveals the biases and presumptions even supposed experts can provide in their diagnosis.

KATE PLAYS CHRISTINE boldly challenges its subjects and audience alike to accept that answers from the past are never easy.
OFFICIAL SELECTION
Sundance Film Festival 2016
True/False Film Festival 2016
Berlin International Film Festival 2016
Vancouver International Film Festival 2016
DIRECTOR'S BIO
Robert Greene's films include the Gotham Awards–nominated ACTRESS (2014), FAKE IT SO REAL (2012), and KATI WITH AN I (2010). Robert has edited films including QUEEN OF EARTH (2015) and LISTEN UP PHILIP (2014) by Alex Ross Perry, APPROACHING THE ELEPHANT (2014) by Amanda Rose Wilder, and CHRISTMAS, AGAIN (2014) by Charles Poekel. Robert writes for Sight & Sound and is the filmmaker-in-chief at the Murray Center for Documentary Journalism at the University of Missouri.
press for Kate Plays Christine
"A fascinating pursuit of understanding the unknowable."
- The Guardian
"Non-fiction filmmaking by way of psychological thriller"
- The Skinny
"Robert Greene's performance-based documentary on Christine Chubbuck is an ingenious, knowingly frustrating provocation."
- Variety
details
credits
Director
Robert Greene
Producer
Douglas Tirola, Susan Bedusa
Screenwriter
Robert Greene
Cinematographer
Sean Price Williams
Music
Keegan DeWitt
Featuring
Kate Lyn Sheil, Stephanie Coatney, Michael Ray Davis, Zachary Gossel, Holland Hayes, David Mackey
Official website
kateplayschristine.com
Facebook
facebook.com/KatePlaysChristine
Twitter
@PlaysChristine
community
awards
Winner Terry Porter Visionary Award, Sarasota Film Festival 2016
Winner U.S Documentary Special Jury Award for Writing, Sundance 2016