Luchadoras
Germany, Mexico, 2021 : Alberta Premiere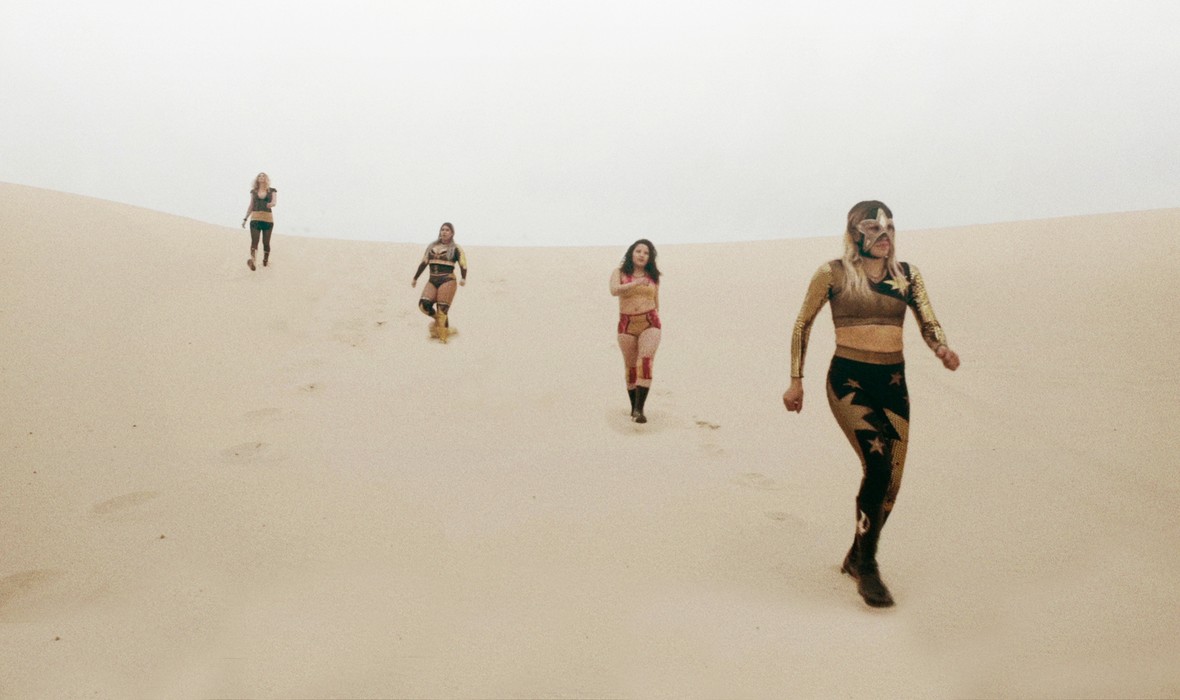 Available to watch November 24-28
Buy
description
LUCHADORAS is an intimate portrait of three courageous female wrestlers from Ciudad Juárez, Mexico, a city known for its high murder rate and violence against women.

Despite being surrounded by a culture of machismo, the trio actively challenge this. There's the short statued Mini Serinita whose biggest dream is to become a full time Luchadora and leave behind the factory work that disenfranchises so many women in the country. Lady Candy, who can see the US border where her daughters were taken from her house, but due to visa regulations can never cross it. And Baby Star, the young single mother who was a Lucha Libre Star at an early age and now wants to make her comeback. Together, the three Luchadoras present a new image of modern-day Mexican women, both in the ring and in their daily lives.
OFFICIAL SELECTION
SXSW 2021
Thessaloniki Documentary Film Festival 2021
Reykjavik International Film Festival 2021
DIRECTOR'S BIO
Paola Calvo is a Venezuelan born director and DOP. She made her first documentary VIOLENTLY HAPPY in film school and was awarded a National Prize for Cinematography at IFFF 2017, and was nominated for the Michael Ballhaus Camera Prize at the prestigious First Steps Film Awards.
DIRECTOR'S BIO
Patrick Jasim is a director and DOP. He made his DOP feature debut with STUBBORN BOY, which screened at Berlinale Film Festival 2015. He was also the DOP on the documentary HELMUT BERGER, MY MOTHER AND ME, which was awarded the prestigious "Max Ophu?ls Prize" and was released theatrically across German in 2019.
Created by Ryann, host of Fourier Transform, Mondays, 4-6PM
press for Luchadoras
"A powerful portrayal of female resistance and breaking the status quo."
- Slashfilm
"A bracing look at what it means to be a woman in Mexico, Luchadoras follows three female athletes as they dodge punches on the mat, and wrestle with a sexist, corrupt, murderously masochistic society outside the ring."
- L.A. Weekly
details
Spanish | English Subtitles
92 minutes
credits
Director
Paola Calvo
Patrick Jasim
Producer
Phillip Kaminiak
Screenwriters
Paola Calvo
Patrick Jasim
Phillip Kaminiak
Cinematographer
Patrick Jasim
community
awards
Winner Audience Award, International Selection (Film Over 45'), Thessaloniki Documentary Film Festival 2021
Winner Special Jury Award, Thessaloniki Documentary Film Festival 2021
Winner FIPRESCI Prize, Thessaloniki Documentary Film Festival 2021