Hello Dankness
Australia, 2022 : Alberta Premiere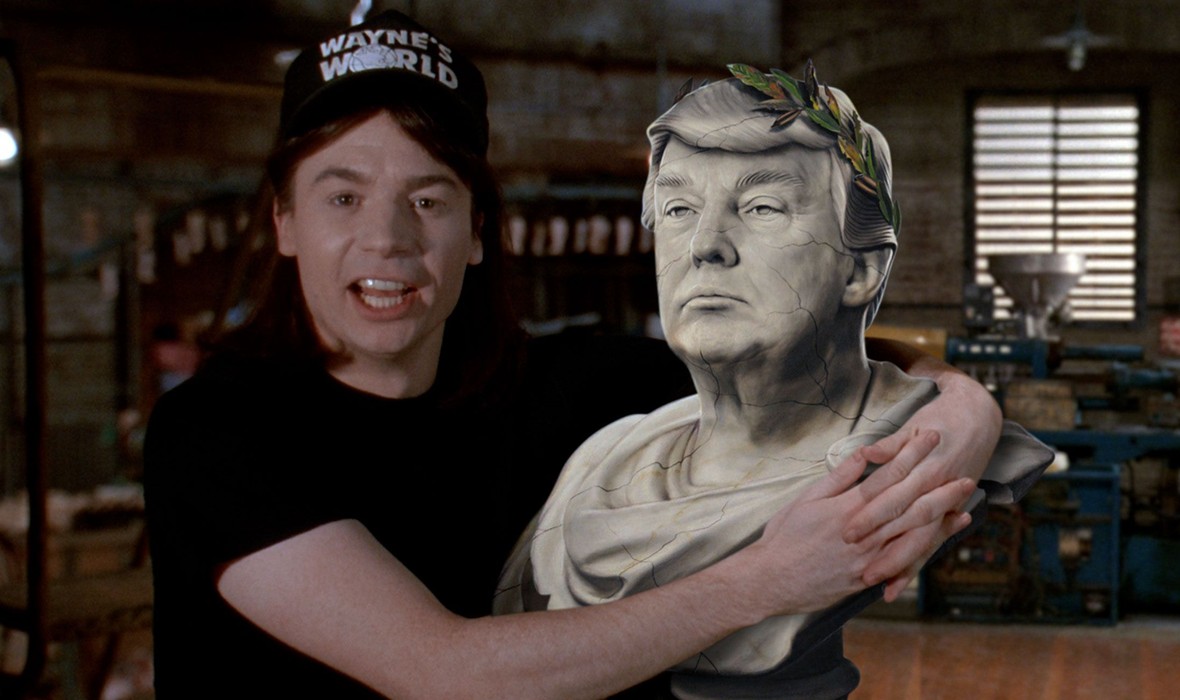 description
Assembling hundreds of film clips and media images, artist duo Soda Jerk's s narration about the changes undergone by American society since Trump, while relishing in reflecting on contemporary cultural values.

Comprised entirely of film samples, HELLO DANKNESS is a political fable that bears witness to the psychotropic spectacle of American politics from 2016 to 2021, and the mythologies and lore that took root around it. Taking form as a suburban stoner musical, the film follows a neighbourhood through these years as consensus reality disintegrates into conspiracy and other contagions. What unfolds is a rogue retelling of history in which hotdogs debate the culture wars, trashcans preach QAnon, zombies rally for revolution, and real events are refashioned as Broadway bangers from Cats, Les Miserables, Annie, and The Phantom of the Opera. There are songs and dancing, moments of menace and melancholy, shitposting and deep sincerity. Begun in 2019 and laboured on throughout the Covid-19 pandemic, HELLO DANKNESS is a record of the time, written from the time.

The cast of characters include Tom Hanks, Annette Bening, Bruce Dern, Ice Cube, Wayne and Garth, Maya and Ana, Rue and Jules, Seth Rogan and Reyn Doi. American politicians play themselves, with Jesse Eisenberg in the role of Mark Zuckerberg, and The Phantom of the Opera as Vladimir Putin.
OFFICIAL SELECTION
Berlin International Film Festival 2023
Sydney Film Festival 2023
Chicago Underground Film Festival 2023
Vancouver International Film Festival 2023
DIRECTOR'S BIO
Soda Jerk is an artist duo who make sample-based films with a rogue documentary impulse. They are fundamentally interested in the politics of images; how they circulate, whom they benefit and how they can be undone. Formed in Sydney in 2002, they've been based in New York since 2012. They have exhibited extensively within the fields of art and experimental cinema and have collaborated on projects with cyberfeminist collective VNS Matrix and electronic music group The Avalanches. Their new feature HELLO DANKNESS (2022) follows their controversial political revenge fable TERROR NULLIUS (2018), which was disowned by its commissioning body, who called the film "UnAustralian". The Guardian named the "dizzyingly ambitious satirical work" one of the best Australian movies of the decade.
press for Hello Dankness
"HELLO DANKNESS belongs to a venerable underground-film tradition of treating refracted entertainment as a mirror for society."
- New York Times
"Pop culture's infinite cycle always spits out and reassembles content; here the process is explicit, amplified, and turbocharged."
- Guardian
details
credits
community
Community Partners