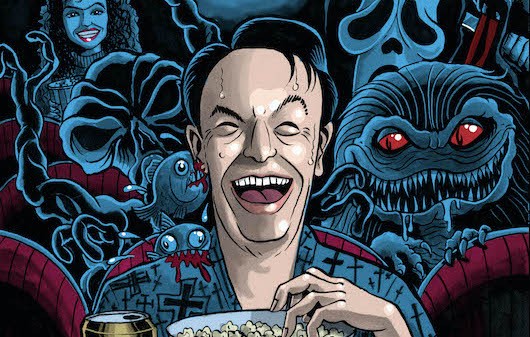 12-Hour Halloween Horror Movie Marathon
Calgary Underground Film Festival and RISE UP Weekends present ... 12-Hour Halloween Horror Movie Marathon
An annual CUFF tradition! This Halloween, the Calgary Underground Film Festival returns to Globe Cinema for our annual 12-Hour Horror Movie Marathon. 7 movies from 7pm until 7am the next morning, including a costume contest, and other surprises throughout the night. This year's event is presented by RISE UP Weekends.
When: Saturday, October 30 @ 7pm
Where: Globe Cinema (617 8 Ave SW)
Tickets: $20 regular / $18 members, students & seniors
THIS EVENT IS NOW SOLD OUT
THE 2021 FILM LINEUP
SCREAM (1996)
Dir. Wes Craven
7:00 PM
A year after the murder of her mother, a teenage girl is terrorized by a new killer, who targets the girl and her friends by using horror films as part of a deadly game.
IN THE MOUTH OF MADNESS (1994)
Dir. John Carpenter
9:00 PM
An insurance investigator begins discovering that the impact a horror writer's books have on his fans is more than inspirational.
CRITTERS 2 (1988)
Dir. Mick Garris
10:45 PM
Eggs of the small but voracious alien creatures called Crites are left behind on earth and, after hatching, set their appetites on the small farm town of Grover's Bend.
12:15 AM - COSTUME CONTEST

WINTERBEAST (1992)
Dir. Christopher Thies
12:30 AM
People are being killed off near a popular mountain lodge, with a legend claiming that the mountain is haunted by a deadly Native American demonic curse.
FRIDAY THE 13TH 5: A NEW BEGINNING (1985)
Dir. Danny Steinmann
2:00 AM
Still haunted by his past, Tommy Jarvis - who, as a child, killed Jason Voorhees - wonders if the serial killer is connected to a series of brutal murders occurring in and around the secluded halfway house where he now lives.
PIRANHA (1978)
Dir. Joe Dante
3:45 AM
When flesh-eating piranhas are accidentally released into a summer resort's rivers, the guests become their next meal.
DON'T PANIC (1988)
Dir. Rubén Galindo Jr.
5:30 AM
On his seventeenth birthday, Michael unwittingly unlocks the evil forces of a Ouija board.
7:00 AM – EVENT ENDS
All film start times are approximate. Hey, it's a 12-hour marathon, we might be running a few minutes late. If there's a film that you don't want to miss the beginning of, we recommend arriving approximately 15 minutes before the suggested start time. There is a 10 minute intermission between all films.
CAPACITY & COVID SAFETY PROTOCOLS:
We will be implementing the restrictions' exemption program, as an event, working alongside the Globe Cinema, who has been following them as well.
We will be operating at 50% capacity with spacing between groups. This event uses both the upstairs and downstairs cinemas, for use of washrooms.
We will be requiring proof of vaccination or negative test result (72-hours), plus mandatory masking in the lobby and while walking around the venue.
Social distancing etiquette must be followed.
Only Debit, Visa, and Mastercard will be accepted at the concession.
Please note that our Halloween event is in-cinema only. If you'd like to participate from home, many of these films are available to rent or purchase for at-home viewing.
FOOD & CONCESSION:
Globe concession will be open and available all night long
Free breakfast served before the final film at 5am
Bar is open until 2 am
Only Debit, Visa, and Mastercard will be accepted at the concession.
CUFF will have additional food & coffee options made avaialble to you as well throughout the night!
RISE UP Weekends
This event has been made possible with funding from RISE UP Calgary, an initiative to kickstart the arts industry's recovery, connecting Calgarians to safety-conscious live experiences and events and supporting local artists and businesses who have struggled through COVID-19.
Sponsors
In addition to our presenting partner RISE UP Weekends, with support from the City of Calgary and Calgary Arts Development, this year's 12-Hour Halloween Horror Movie Marathon is sponsored by