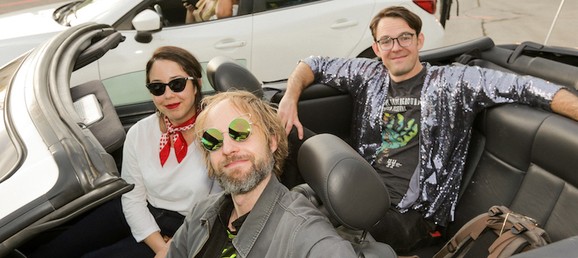 2021 Drive-In
As part of the 18th Calgary Underground Film Festival, we'll be presenting three nights at the drive-in from June 3-5, 2021.
Screenings will take place at Crossroads Market located at 1235 26 Ave SE, Calgary, AB T2G 1R7.
Films will begin each night at 10:00pm.
Please note: FM RADIO is required in your vehicle. We will not have an alternative audio option.
2021 Drive-In Lineup
Thursday, June 3 – SPIRAL: FROM THE BOOK OF SAW
Friday, June 4 – RECOVERY
Saturday, June 5 – GEORGE A. ROMERO DOUBLE BILL: THE AMUSEMENT PARK & NIGHT OF THE LIVING DEAD
Tickets to all drive-in films are now sold out
The Rules
These Rules & Regulations follow guidelines regulations from Alberta Health Services, as of April 28, 2021. Please note that these are subject to change to reflect changing rules and regulations. We will continue to update this space and ticketholders, so please consult shortly before attending any of our drive-in events.
The health and safety of our audience and staff is our top priority. All of our drive-in events are held in accordance with Alberta Health Services health and safety protocol.
Read on for details, but in summary: Stay in your car, advance online sales only (for both tickets & concession). We will not be selling tickets at the event. You must pre-purchase your ticket online.
STAY IN YOUR CAR
Alberta Health Services rules state that you must stay in your vehicle for the entire duration of the event. No lawn chairs out front, no sitting on your roof, no passengers in the back of trucks. Please, stay inside. Lucky you, your windows can be rolled down.
VEHICLE SIZE RESTRICTIONS IN PLACE
To ensure proper sightlines, please don't rock up in a motor-home, RV or passenger van. If your vehicle is over-sized, such as a truck, you'll be directed to park near the back of the lot.
WASHROOMS
In accordance with AHS guidelines a washroom will be available on site. Single use washrooms, please keep two metres apart.
PARKING
The lot opens to vehicles at 9pm and the film will start at 10pm. If you arrive early you will have to wait in another parking lot near by. Our staff and volunteers will guide you to park your car in a set spot. We are using the main entrance off 26th Ave on the East side of the building (closest to the Market). Please note, we will be parking vehicles based on size too, to aim for all people to have the best sightlines we can provide. Therefore, smaller cars are up front (unless they specifically ask to be further back), and we'll have larger vehicles further back or on the sides.
WEATHER
Unless there are extreme winds, we are able to proceed with our drive-in screens, even if it rains. If the event is cancelled we will email all ticketholders and reschedule it for another date. We know the weather can change in a minute. If you need to use your heat, windshield wipers or AC during the screening, please do not idle your vehicle.
ADVANCE CONCESSION ONLY
Curbside concession is available each night! Please order here: https://vipdrivein.square.site/
We have a selection of Old Dutch Chips (200-236g bags), Annex Sodas, Red Mountain Kettle Korn and candy! Pre-order and your snacks will be ready for you when you arrive. When you are checking out, select the date of the drive-in that you are attending in the "Schedule for Later" pick-up option. Make sure to CHANGE the date to the drive-in you are attending.