Hobo With A Shotgun - National Canadian Film Day
Canada, 2011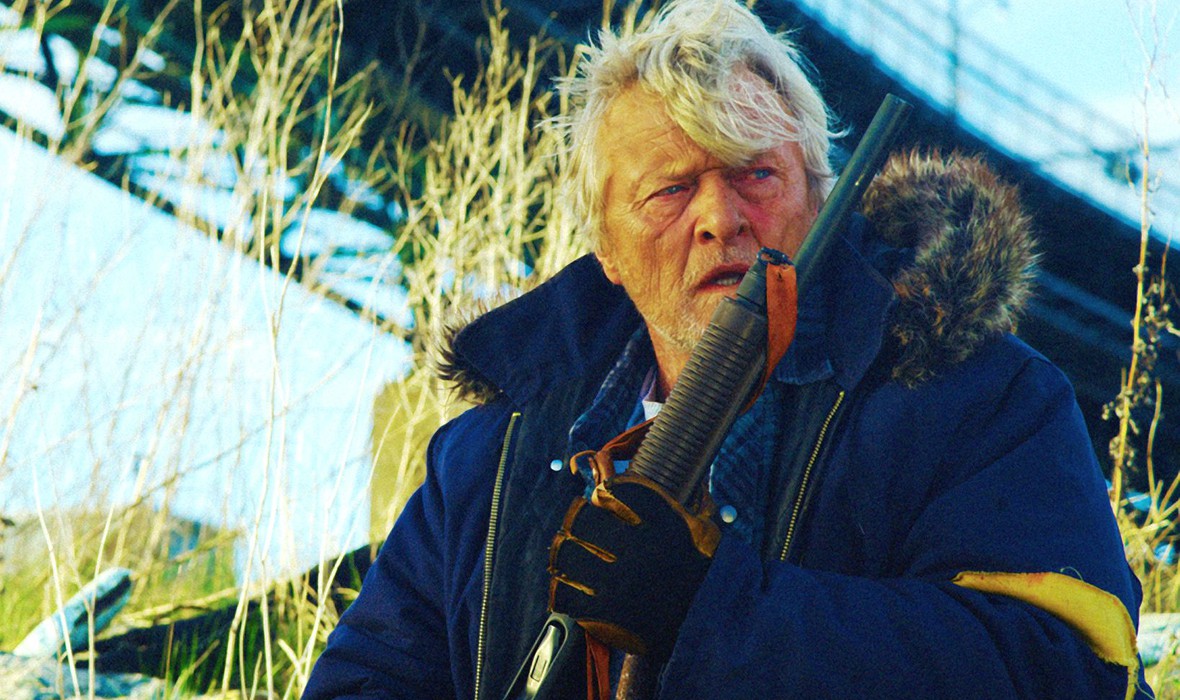 Stream Live
Only at the scheduled time:
Stream on Demand
(48 hours only!)
Available to watch April 21-23
Buy
description
As part of National Canadian Film Day, CUFF is partnering with Reel Canada for a free online presentation of HOBO WITH A SHOTGUN (2011) to celebrate the film's 10th Anniversary. Now a cult classic, the action exploitation film was based on a faux-trailer of the same title featured in Quentin Tarantino and Robert Rodriguez's GRINDHOUSE.
Join CUFF on April 21 for a live watch party at 7pm MT or view the film on-demand from April 21-23 (stream available for 48-hours). Watch the film from anywhere in Canada. You must claim a free ticket to attend this online event.
Film stream includes a Q&A with Director Jason Eisener and Cinematographer Karim Hussain hosted by CUFF Lead Programmer Cameron Macgowan
ABOUT THE FILM
A train pulls into the station – it's the end of the line. A hobo jumps from a freight car hoping for a fresh start in a new city. Instead, he finds himself trapped in an urban hell. This is a world where criminals rule the streets and Drake, the city's crime boss, reigns supreme alongside his sadistic murderous sons, Slick & Ivan. Amidst the chaos, the hobo comes across a pawn shop window displaying a secondhand lawn mower. He dreams of making the city a beautiful place and starting a new life for himself. But as the brutality continues to rage around him, he notices a shotgun hanging above the lawn mower. Quickly, he realizes the only way to make a difference in this town is with that gun in his hand and two shells in its chamber.
ABOUT NATIONAL CANADIAN FILM DAY
An initiative of Reel Canada, National Canadian Film Day is a massive one-day, coast-to-coast-to-coast celebration of Canadian cinema. Each year CUFF hosts Calgary's flagship event.
OFFICIAL SELECTION
Sundance Film Festival 2011
DIRECTOR'S BIO
Jason Eisener is a Canadian director and producer. In 2007, Eisener's HOBO WITH A SHOTGUN won the GRINDHOUSE fake trailer contest hosted by Robert Rodriguez and the SXSW Festival. The feature length HOBO WITH A SHOTGUN was released in 2011 and played the Sundance Film Festival. He also directed V/H/S/2 in 2013.
Closed captioning is available for this film. Find Out More >
CJSW Playlist Created by Andy & Tyra, Hosts of Ears Wide Shut, Wednesdays, 2-4PM
press for Hobo With A Shotgun - National Canadian Film Day
"Offers up grindhouse gristle and wit that puts MACHETE to shame"
- Slant Magazine
"HOBO WITH A SHOTGUN takes on genre filmmaking with a vengeance and a toque."
- Toronto Star
details
credits
community
Partners