#Shakespearesshitstorm
United States, 2020 : Alberta Premiere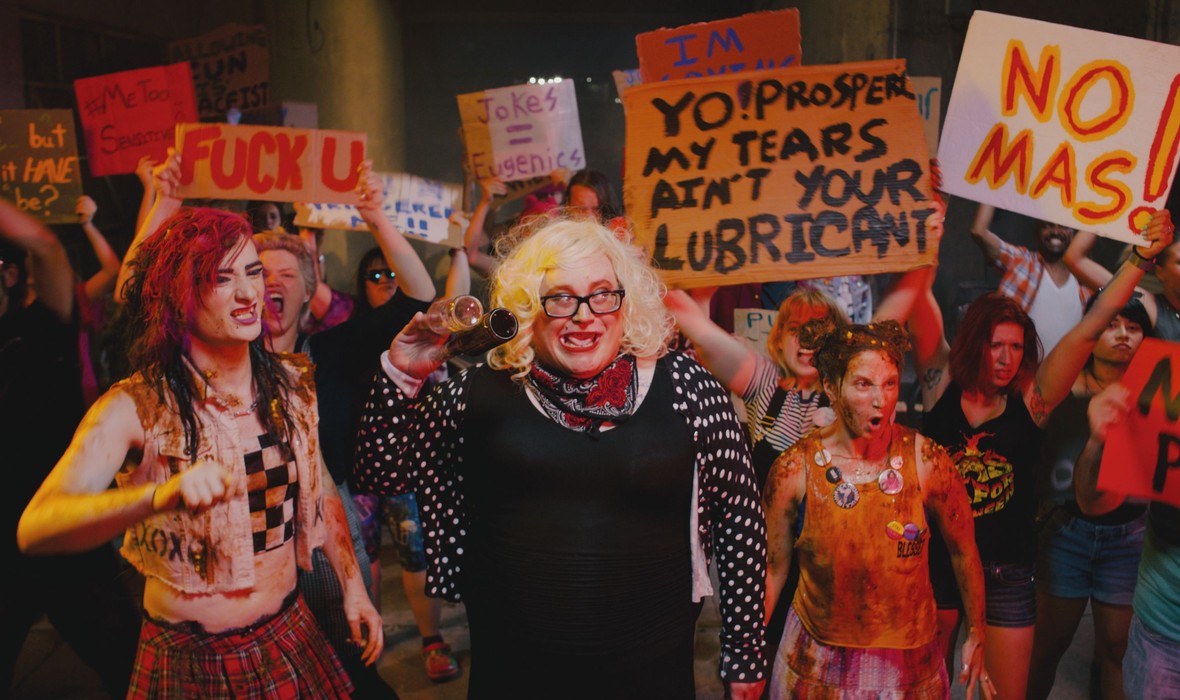 Available to watch Apr 23 - May 2
Buy
description
The Opioid Epidemic is destroying America and legendary director Lloyd Kaufman celebrates Troma's 45th and his 50th year making movies, by taking on Big Pharma, addiction and the intolerance of social media in #SHAKESPEARESSHITSTORM. This irreverent musical adaptation of "The Tempest" is ripe with bawdy couplets, Hieronymus Boschian images of excess and unrefined iambic pentameter. Shakespeare has never been this raw and unfiltered.
OFFICIAL SELECTION
Fantasia International Film Festival 2020
Monster Fest 2020
New York City Horror Film Festival 2020
Boston Sci-Fi Film Festival 2021
Imagine Film Festival 2021
DIRECTOR'S BIO
Lloyd Kaufman and Michael Herz met at Yale in 1971 and three years later the Troma Universe was born in 1974 with a series of highly original, raunchy comedies such as SQUEEZE PLAY!, STUCK ON YOU!, and WAITRESS! Kaufman continued to work on outside productions such as ROCKY and SATURDAY NIGHT FEVER before Troma became world-famous for producing and distributing classics such as Kaufman's THE TOXIC AVENGER, MOTHER'S DAY and TROMEO & JULIET. Kaufman has been an honoured guest at various international film festivals and Troma retrospectives around the world and has received the Lifetime Achievement Awards at the Fantasy Film Festival of Amsterdam, Sitges Film Festival, Brussels Festival of Fantasy and others.
Closed captioning is available for this film. Find Out More >
CJSW Playlist Created by Kathryn, host of Nightmare Delirium, Sundays 3-5:30 AM
press for #Shakespearesshitstorm
"#SHAKESPEARESSHITSTORM is like no other. The film is everything a Troma fan could ask for. Lloyd once again shows why Troma has a dedicated following and #SHAKESPEARESSHITSTORM is the best film of 2020."
- Horror Society
"This is an exploitation film unlike any other, and it is a pure and simple cinematic masterpiece."
- Ghoulish
"#SHAKESPEARESSHITSTORM is a lot of deranged fun that will satisfy fans of bad taste cinema."
- In Their Own League
screened with a short film

The Ballad Of Sharkasaurus
Canada (Calgary), 2020, 12 min, Director Spencer Estabrooks
details
credits
community
awards
Best Satire, South African Horrorfest Film Festival 2020
Gold Award For International Feature Narrative, Charleston International Film Awards
Community Partners