The Old Man Movie
Estonia, 2019 : Alberta Premiere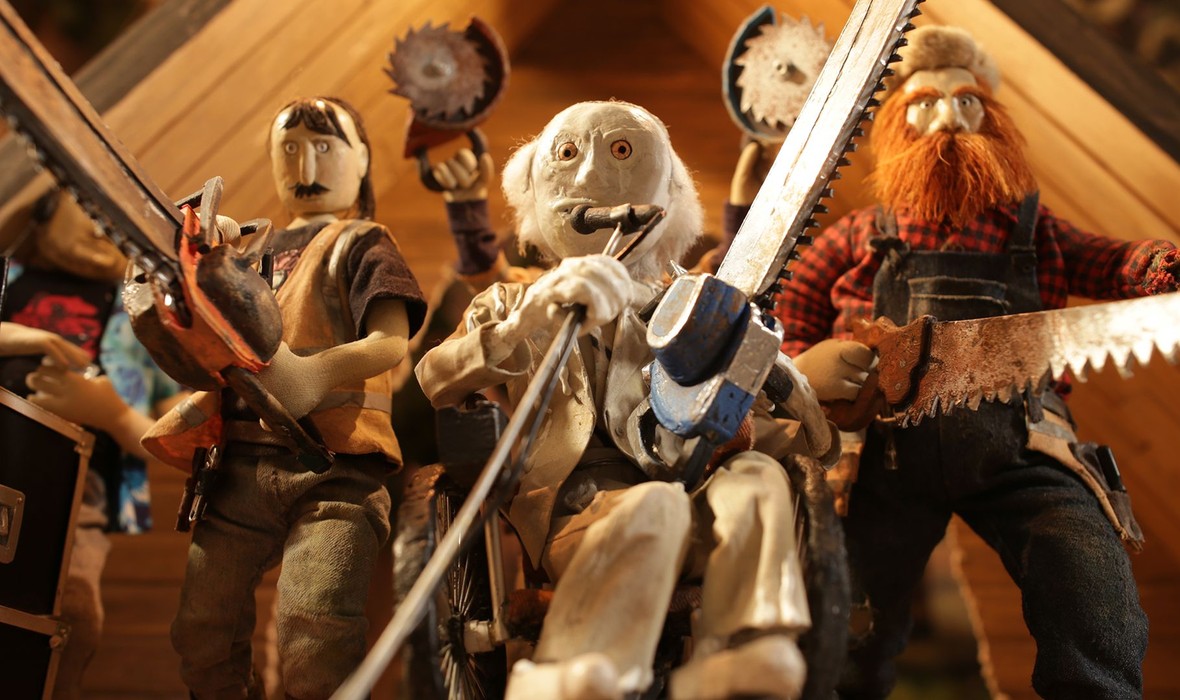 Available to watch Apr 23 - May 2
Buy
description
In a remote Estonian village, three children from the city are forced to spend the summer on their grandfather's farm. When the trio accidentally set loose the old man's prized but thoroughly abused cow, they learn that they have only 24 hours to milk the rogue bovine before it's exponentially expanding udders explode and unleash a lacto-palypse. The gang begin a merciless race as the udder must be defiled before the mysterious Dairy sends the cow to the heavenly meadow. Along this journey, our heroes face a rural hipster, forest beasts, desperate lumberjacks, and a lunatic bear in constipation.
This surreal and hysterically scatalogical stop-motion comedy, by the writer-director duo Mikk Mägi and Oskar Lehemaa (CUFF 2020 Selection BAD HAIR) will taint your psyche and leave you gasping for breath. Based on a popular Estonian web series created by Peeter Ritso and Mikk Mägi, THE OLD MAN MOVIE is charming and hilariously disturbing in equal measure.
OFFICIAL SELECTION
Fantasia International Film Festival 2020
Fantastic Fest 2020
DIRECTOR BIOS
Director and animator Mikk Mägi was born in Tallinn, Estonia. In 2014 he graduated with a degree in animation from the Estonian Academy of Arts. In 2011 he founded the animation studio BOP!. He is the director and writer of the animated short film SOLSTICE (2018). He is co-writer/co-director of THE OLD MAN MOVIE.
Oskar Lehemaa was born in 1988 in Pärnu, Estonia. Growing up in a dull small town, watching action flicks and making silly short films was the perfect escape from reality. Today these passions have become a career, as Oskar infuses his works with a love for genre, from comedy to gory horror. Regardless of the project or genre, there seems to be a common thread – a pinch of humour is always added. BAD HAIR (CUFF 2020 Selection) was Oskar's debut short film as a director. He is co-writer/co-director of THE OLD MAN MOVIE.
Closed captioning is available for this film. Find Out More >
press for The Old Man Movie
"Gloriously unhinged and terrifically transgressive."
- The Austin Chronicle
"[A] wild 88-minute ride of unhinged, sidesplitting stop-motion silliness .... It's immature, it's crass, it's vulgar, and it's all the better for it, with these animated antics forming what is easily one of the funniest films of 2020."
- MovieBabble
"Like ADULT SWIM on crack."
- Gayly Dreadful
screened with a short film

A Hole
United States, 2020, 9:30 min, Director Molly Murphy
The world is about to be swallowed by a black hole. The world turns to a wealthy entrepreneur whose "Escape Lottery" offers the only chance at continuing the human legacy.