Friendly Local Game Store
Canada, 2022 : World Premiere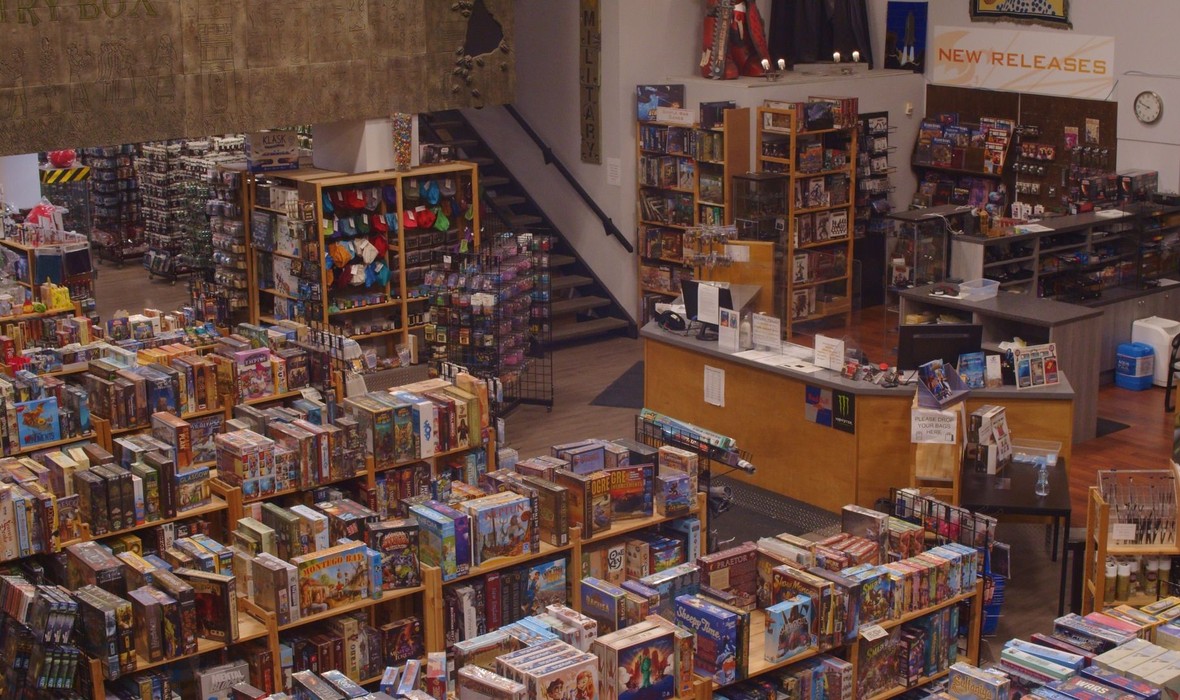 Available to watch Apr 29 - May 1
Buy
description
In-person Q&A with director Garry Snow & Gordon Johansen following the screening!
The unlikely story of the world's largest game store – The Sentry Box – located in Calgary.
Communities are not just bound by borders – they are often comprised of people with shared passions. A friendly local game store (FLGS) is a unique place where people can connect with each other, create memories, and build community. Celebrating over 40 years of operation, the Sentry Box in Calgary, Alberta has grown to become the world's largest game store. It has achieved this incredible milestone by being an inviting and welcoming space for people of all backgrounds to enjoy table top games, such as Dungeons and Dragons. The documentary from CUFF alumnus and Calgarian Garry Snow shares the unique history of the Sentry Box by interviewing the owner, long-time customers, current and former employees, and local industry influencers who have all been connected by the friendly local game store.
DIRECTOR'S BIO
Receiving a Dungeons and Dragons game as a 12-year-old sparked a lifelong love of sharing stories and playing games for Garry Snow. Combining these two passions into his first documentary film, Garry shares the incredible story of the Sentry Box, while exploring why games are the perfect activity to bring people together. Garry is the host of the Dieku Podcast where he conducts long-form video interviews with game designers about their creative journeys, and has developed several of his own pen and paper table top games. Garry got his first taste of filmmaking while participating in CUFF's 48-Hour Movie Making Challenge.
Closed captioning is available for this film. Find Out More >
details
credits
Director
Garry Snow
Producer
Garry Snow
Cast
Gordon Johansen
Additional Cast
Sean Devitt
Gabriel Martin
Cliff Samuels
Steve Zanini
Leonard Halmrast
Greg Jackson
Dan Roscoe
Oliver Roscoe
Cam Laurion
Ryan Young
Brandon Hearty
Jonathan Brinton
Shane Lethaby
Nicholas Hutcheon
Bronwyn Johansen
Renee Haverhals
Fallon Johansen
Brittany Osiowy
Tina Hertz
Maddie Day
Danielle Dorotich
Farzin Yaghoutkhah
George Georgeadis
Production Assistants
Zoey Snow
Skylar Snow
Official website:
http://www.diekugames.com
Twitter:
https://twitter.com/diekugames
Facebook:
https://facebook.com/diekugames
Instagram:
https://www.instagram.com/diekugames/
community
Presenting Partner

Community Partners