Slash/Back
Canada, 2022 : Alberta Premiere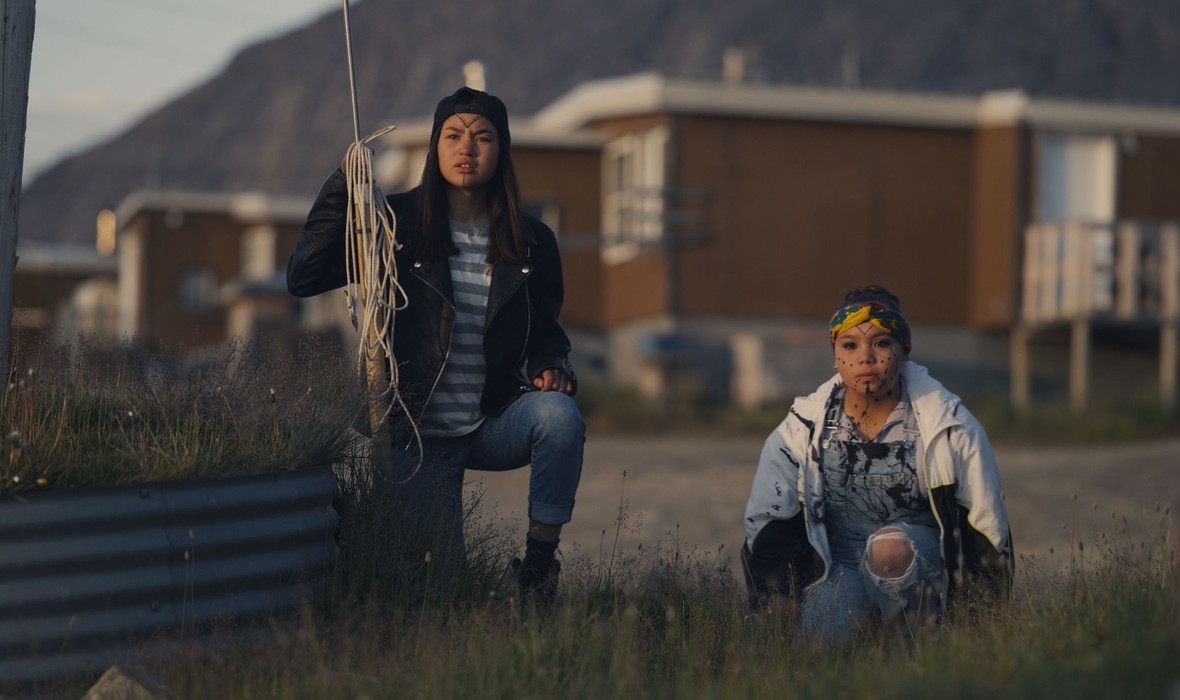 Available to watch Apr 29 - May 1
Buy
description
In a remote Arctic community, a group of Inuit girls fight off an alien invasion, all while trying to make it to the coolest party in town.

Pangnirtung, Nunavut: A sleepy hamlet, nestled in the majestic mountains of Baffin Island in the Arctic Ocean, wakes up to a typical summer day. No school, no cool boys (well... except one), and 24-hour sunlight. But for Maika (Tasiana Shirley) and her ragtag friends, the usual summer is suddenly not in the cards when they discover an alien invasion threatening their hometown. These teenagers have been underestimated their whole lives and, using makeshift weapons and their horror movie knowledge, they show the aliens you don't fuck with the girls from Pang.

This screening is FREE for youth 14 and under!
OFFICIAL SELECTION
SXSW 2022
TIFF Next Wave Film Festival 2022
DIRECTOR'S BIO
Nyla Innuksuk is the founder of Mixtape VR, which produces film, virtual and augmented reality content. A writer for Marvel Comics, Nyla co-created the character of Snowguard, a teenage superhero from Pangnirtung, Nunavut, and a member of Marvel's Champions League. Most recently, Nyla wrote and directed her first feature film SLASH/BACK, an alien invasion horror about a group of teen girls from the Arctic. In 2019 Innuksuk was named one of the Top 5 To Watch by Playback Magazine. Working in mixed media allows Nyla to channel her passions for technology and genre storytelling among mediums that include interactive graphic novels, film, television and synthetic experiences. Originally from Igloolik, Nunavut, Nyla studied film at Ryerson University. In addition to her film and digital work, Innuksuk sits on the board of directors of Ontario Creates and the Glenn Gould Foundation. In 2020, Nyla was asked by UN Women to represent Canada in discussing the future of emerging technologies in G7 countries. Nyla has participated often as an early tester of emerging technology for Google, is an ambassador for the Northern Indigenous Film Fund in Norway and is currently a research fellow at MIT. She is represented by Keya Khahatian at UTA.
Closed captioning is available for this film. Find Out More >
press for Slash/Back
"[SLASH/BACK] uses an Indigenous lens to craft a charming and exciting gateway horror film that never loses sight of the characters at its center."
- Bloody Disgusting
"SLASH/BACK straddles the line between E.T. and ATTACK THE BLOCK with grace and plenty of action, these girls kick a lot of ass and genre fans young and old should eat this up."
- Screen Anarchy
screened with a short film

Dear Friend
Canada (Alberta), 2022, 5 m 35 s, Director Trevor Solway
A visual letter penned by Indigenous youth and made out to a "cruel friend." The young authors of this letter pour their heart into expressing the torment, confusion and empathy they feel towards their mental health.
details
English | English Subtitles
86 minutes
credits
Director
Nyla Innuksuk
Executive Producers
Hussain Amarshi
Neil Mathieson
Producers
Daniel Bekerman
Chris Yurkovich
Alex Ordanis
Nyla Innuksuk
Stacey Aglok MacDonald
Alethea Arnaquq-Baril
Ethan Lazar
Screenwriters
Nyla Innuksuk
Ryan Cavan
Cinematographer
Guy Godfree
Cast
Tasiana Shirley
Alexis Wolfe
Chelsea Prusky
Alexis Vincent-Wolfe
Nalajoss Ellsworth
Music
The Halluci Nation And Michael Brook
community
Community Partners