The Righteous
Canada, 2021 : Alberta Premiere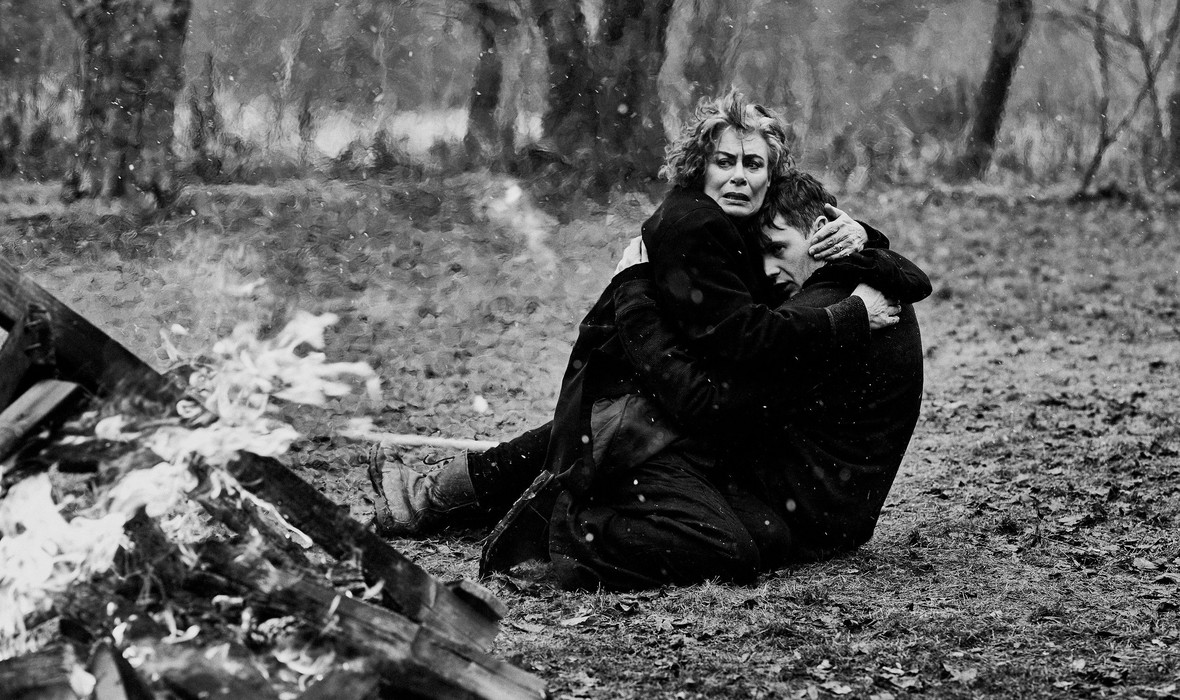 Available to watch Apr 29 - May 1
Buy
description
In-person Q&A with director, screenwriter, actor Mark O'Brien
A burdened man feels the wrath of a vengeful God after he and his wife are visited by a mysterious stranger in this Newfoundland-set psychological horror.

Frederic Mason was a priest for most of his life. Now in his 60s, he has left the faith and moved to the country to start a family with his new wife. Frederic, however, is mired in his troubled past and a secret he cannot exhume himself of. A mysterious young man needing help soon appears, and he slowly reveals his true identity and what this means for Frederic and his complicated relationship with a vengeful God. From first-time writer/director/actor Mark O'Brien (READY OR NOT), the slow burn thriller is receiving much acclaim on the festival circuit, including winning the Cheval Noir Award for Best Screenplay at Fantasia Film Festival 2021, and several Directors Guild of Canada and Canadian Screen Awards nominees.
OFFICIAL SELECTION
Fantasia International Film Festival 2021
Blood in the Snow Canadian Film Festival 2021
Grimmfest 2021
Santa Barbara International Film Festival 2022
DIRECTOR'S BIO
Mark O'Brien is an award-winning actor and filmmaker. His short films have won him awards from dozens of festivals around the world. As an actor, Mark is one of the stars of Showtime's CITY ON A HILL, starring opposite Kevin Bacon and produced by Ben Affleck and Matt Damon. He was one of the stars of AMC's critically acclaimed series HALT AND CATCH FIRE as well as the Amazon series THE LAST TYCOON. In 2016, he starred in Denis Villeneuve's ARRIVAL; other films include MARRIAGE STORY, READY OR NOT, ANON, THE DARKEST MINDS, and BLUE BAYOU. O'Brien has also appeared in several hit series, including NBC's HANNIBAL. In 2020, Mark won the Canadian Screen Award for Best Actor in a Leading Role for his performance in the film, GOALIE. He is currently filming the new AMC series 61ST STREET, produced by Michael B. Jordan.
Closed captioning is available for this film. Find Out More >
press for The Righteous
"O'Brien's blistering thriller THE RIGHTEOUS indeed feels like a gift from above."
- The Moveable Feast
"THE RIGHTEOUS is a confident, compelling debut, a dark journey into the soul that satisfyingly leaves as many questions unanswered as answered."
- AWFJ Women on Film
details
credits
Director
Mark O'Brien
Executive Producers
Marc Hamou
David Miller
Producers
Walter Lawlor
Mark O'Neill
Allison White
Screenwriter
Mark O'Brien
Cast
Nigel Bennett
Kate Corbett
Henry Czerny
Mimi Kuzyk
Mayko Nguyen
Mark O'Brien
community
awards
Winner Cheval Noir Best Screenplay Fantasia Film Festival 2021
Winner Best Screenplay & Best Cinematography, Grimmfest 2021