Underdog
United States, 2021 : Canadian Premiere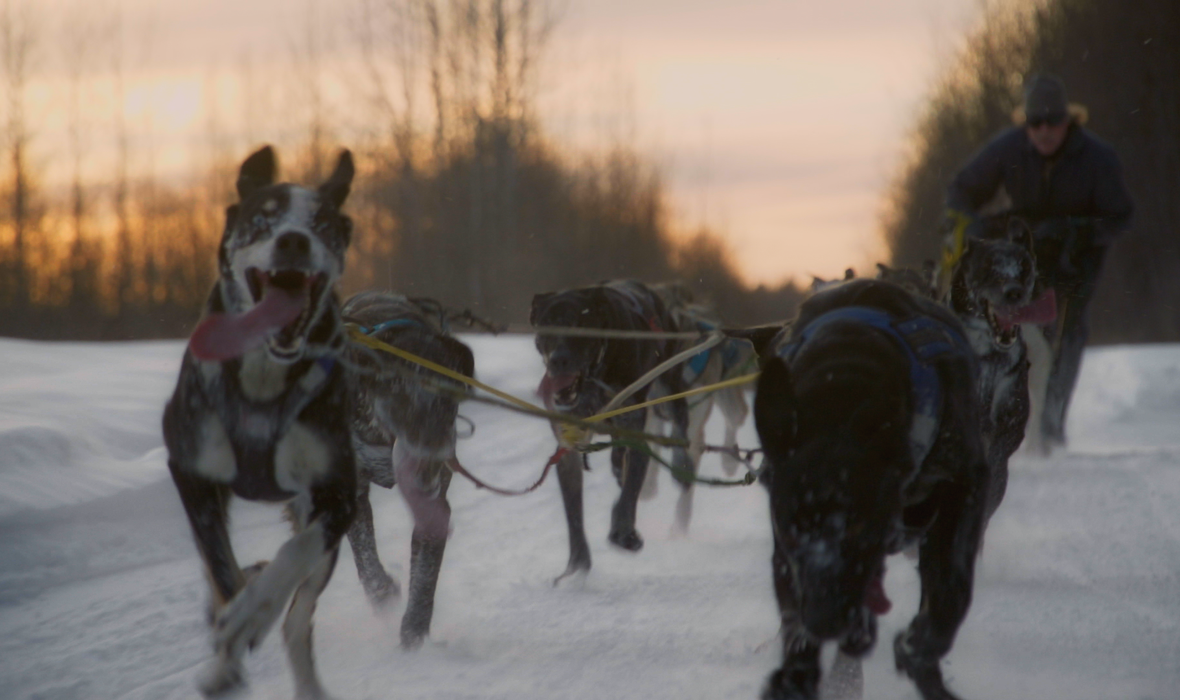 Available to watch Apr 29 - May 1
Buy
description
A quixotic Vermont dairy farmer risks losing the only home he's ever known to chase his dreams of dog mushing in Alaska.

Doug's ease with cows, dogs and people is a joy to behold. And when he trains his team of mutts on the family farm with a dream to compete at the world championships in Alaska, his teenage exuberance seems to erase the tired lines on his sixty-five-year-old face. Yet the demands of being a small-scale family farmer in a changing world are constant, and Doug has never once left his cows for more than a few days. On a cold March morning, Doug pulls out of his driveway in a rusted-out truck carrying 22 dogs, tearily waving goodbye to the only world he's ever known. He's bound for Alaska. The journey will prepare him for what he'll confront when he gets back—the sale of his farm and a race to craft a new destiny. Meticulously captured over the course of a decade, UNDERDOG paints an intimate vérité portrait of Doug as he puts a curiously optimistic twist on the kinds of family farm tragedies that have so marked American rural life. The resonance of Doug's journey extends to all who have faced down loneliness, isolation and the struggle to make sense of forces beyond control.
OFFICIAL SELECTION
Camden International Film Festival 2021
Slamdance 2022
DIRECTOR'S BIO
Tommy Hyde is a documentary filmmaker whose work explores people and stories at the fringes of society. UNDERDOG, a film 10 years in the making, is his directorial debut. He frequently collaborates with Mosaic Films, and is currently in production on two docu-series with them as a producer and writer. He is a graduate of Middlebury College and resides in New York's Adirondack Mountains.
Closed captioning is available for this film. Find Out More >
press for Underdog
"Hyde's subtlety as a filmmaker, along with the fabulous, eccentric central figure — Doug Butler — bring to mind David Lynch's THE STRAIGHT STORY."
- Film Threat
"A truly heartfelt documentary offering up heaping doses of melancholy and joy."
- Quelle Movies
screened with a short film

Deerwoods Deathtrap
United States, 2021, 9 m, Director James P Gannon
50 years ago, Jack and Betty were hit by a train and survived. 50 years later, they return to the scene of the accident to recount their conflicting memories.
details
credits
community