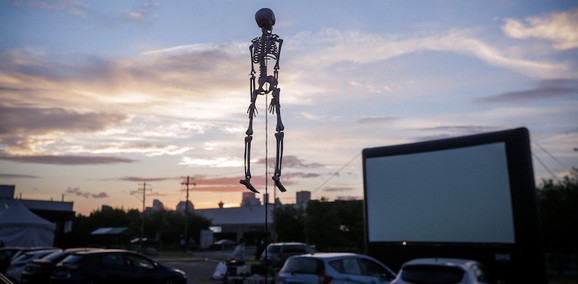 About CUFF
For 18 years, the Calgary Underground Film Festival has been dedicated to elevating Calgary's cultural landscape with the best in international independent cinema. We're now Western Canada's premiere genre festival, and one of Calgary's most anticipated events for film fans. In 2021 CUFF was named one of the World's 50 Best Genre Festivals and one of 50 Film Festivals Worth the Entry Fee by MovieMaker Magazine and continues to attract audiences with its programming of films that engage audiences and defy convention.
Founded in 2003, CUFF is a not-for-profit organization dedicated to programming films that defy convention. Through the screening of contemporary works in various categories that include: feature, documentary, animation and shorts – we bring Albertans a unique roster of films rarely seen in North American theatres.
In 2020 CUFF shifted to an online and drive-in festival due to COVID-19 and cinemas across Alberta being shut down. Although there are many uncertainties in the event industry, we will continue to adapt our festival format to comply with regulations and showcase the best films to Alberta audiences. With steady growth over the past five years, in 2019 7,600 CUFF fans attended the festival over 7 days, making CUFF 2019 the biggest in our 16-year history. When the pandemic shut down festivals across the country in March 2020, we quickly pivoted. In June 2020 we hosted a successful 7-day online & drive-in festival, showcasing a full lineup of new films. 2020 attendance was estimated at 4,615, far exceeding expectations. In 2021, we expanded our online festival to 10 days (April 23 – May 2) and a three-day drive-in (June 3-5, 2021). Between our incredibly successful 10-day online event and drive-ins, this year's festival saw a 65% increase in attendance over the 2020 festival. This means that CUFF has returned to the number of attendees that we welcomed to our last in-person festival in 2019 – the highest-ever attended CUFF.
We actively look to showcase titles in all genres, from horror, sci-fi and fantasy to comedies, thrillers and music-related films. In addition to finding great films we are committed to introducing you to the people behind the lens, by showcasing local and international indie filmmakers. We are proud to contribute to Calgary's thriving arts community and are thrilled to bring innovative and challenging selections to all film enthusiasts.
CUFF now runs two festivals. The 19th edition of the main festival will take place in April 2022, and our CUFF.Docs Documentary Film Festival will take place in November 2021. We also host a year-round Off the CUFF series, and special events throughout the year.
a festival in the know
CUFF elevates Calgary's cultural landscape with the best in local and international independent cinema. We challenge and entertain our audiences with boundary-breaking films, compelling artist showcases and engaging events.