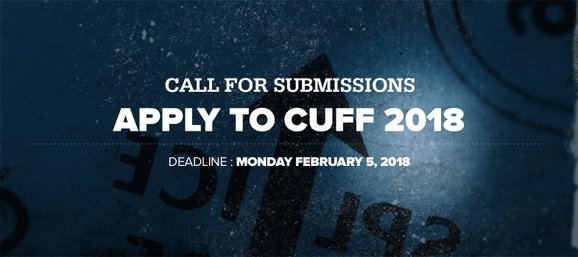 Call for Submissions
Thank you for your interest in submitting to the 15th Calgary Underground Film Festival, taking place April 16-22, 2018
(Note: If you are intersted in CUFF.Docs please email cuff[at]calgaryundergroundfilm.org)
Submissions for April's festival are now open and the deadline is Monday February 5, 2018. We accept submissions through Film Freeway or Zone Festival, with links to the forms below.
We love all genres, and screen a variety of films from documentary to narrative, animation and occasionally music videos. However we do not screen experimental, non-narrative films. In terms of length, we do not accept mid-length films (30 - 60 minutes).
Our entry fees are low, with no charges at all for Canadian productions of any length. You will find two ways to submit below; International Form and Canadian Form. We encourage all filmmakers, production companies and distributors to submit their work. Submission fees for International films are $40 features, $20 shorts.
CANADIAN FORM:

INTERNATIONAL FORM:

Please contact us if you have any questions: cuff@calgaryundergroundfilm.org